Meta, the artist formerly known as Facebook, is looking to nab B2B marketing dollars from LinkedIn. But that's not new or surprising. B2B products and service categories usually rake in more advertising dollars than B2C. Meta wants to make it as attractive as possible for B2B marketers to run campaigns on Facebook, Instagram, and WhatsApp.
In August 2022, Meta introduced a set of new B2B targeting options for advertisers and invited B2B marketers to experiment with the new segments. What are they? Who do they include? And how effective is this segmentation? Let's find out.
What is new with Facebook Targeting for B2B ads?
If you've ever managed a B2B ad campaign on Facebook, odds are you've spent time creating saved audiences on the Meta / Facebook advertising platform trying to target business owners or decision-makers in organizations. So you probably know that creating accurate and effective saved audiences entails a lot of manual work, picking out all the relevant job roles from an ocean of self-reported positions. You would have a CEO, CEO/Owner, Owner, Director, Manager, Founder, etc., and spend quite a bit of time selecting the relevant ones.
For the advertising product managers at Meta, lumping those roles together in a segment looked like an obvious time-saver for B2B advertisers. Pre-configuring B2B segments would make it much easier for advertisers to create saved audiences for B2B personas based on their position without spending precious time looking up the relevant roles.
Aiming at the highest CPCs on the ad market, Meta added the following segments to its audience builder:
IT decision-makers
Business decision-maker titles and interests
Business decision-makers
New active businesses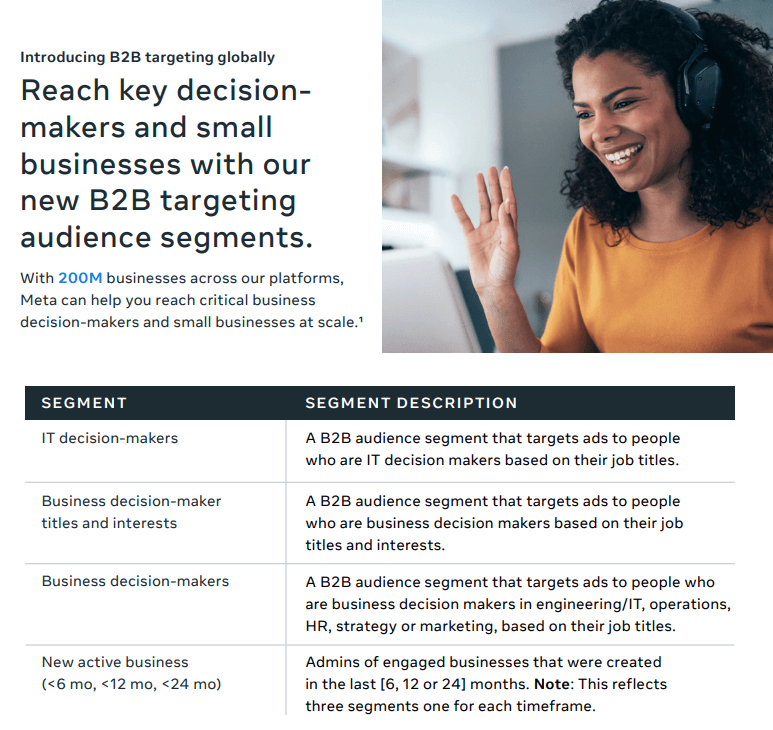 At first glance, at least two of those groups should overlap, and the definitions could be more explicit. Let's look at each new segment and who they included before we discuss how you can leverage these new targeting options in your campaigns across Meta networks.
Meta audience segment: IT decision-makers
According to Meta, this segment includes "people who are IT decision-makers based on their job titles." What does that mean? Meta collected all the relevant and popular job titles across profiles to create this segment. The roles may include CTOs, CISOs, IT directors, and IT managers.

At the time of writing, the audience size of users in the USA alone (based on the last 30 days of user activity) was 93,200 – 109,700 before any exclusions or filters were applied.
It's worth noting that this segment relies on self-reported job roles in user profiles rather than interests or user activities.
Meta audience segment: Business decision-maker titles and interests
Meta describes this target option as "A B2B audience segment that targets ads to people who are business decision makers based on their job titles and interests."
Unlike the IT decision-makers segment, this one takes into consideration interests as well as job titles. So this cross-industry category may include CEOs of enterprises, store managers, and people who've taken an interest in business decision-making. How accurate and effective is this broad B2B targeting? We'll get to that later.

The segment size, as expected, is relatively large, with 242,900 – 285,800 users in the United States alone fitting into this category. Is a quarter of a million decision-makers in the USA active on Facebook? It is hard to believe.
But then again, if you consider this based on self-reported jobs and interests, it's logical that any self-employed Etsy artist or childcare manager will be seen by Meta as a decision-maker in their business, along with the CEOs of major brands.
Meta audience segment: Business decision-makers
Per Meta, the business decision-makers' targeting option is "A B2B audience segment that targets ads to people who are business decision-makers in engineering/IT, operations, HR, strategy or marketing, based on their job titles."

In other words, this segment relies only on self-reported job titles in user profiles. This implies that the segment should be narrower than the segment that also considers interests. Unsurprisingly it isn't. In the USA alone, at the time of writing, Meta offered us a range of 243,000 – 285,900 users, which is more than the size of the supposedly more inclusive segment.
Meta audience segment: New active business
The most straightforward segment added to Meta's B2B targeting options is the New Active Business user segment. Meta described it as "Admins of engaged businesses that were created in the last 6, 12 or 24 months."
Split into three segments according to the length of time; this user audience likely includes the administrators of Facebook pages that identify as businesses (thus excluding fan pages, parody pages, etc.).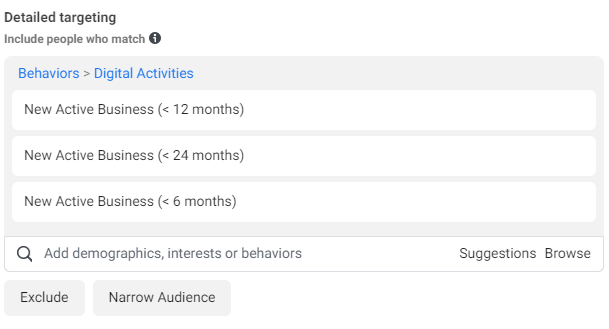 However, there's quite a bit of mystery about how meta classifies an "engaged" business. Does it include companies that have only used the Facebook Ad platform or any page admin that published content on their page? Perhaps "engaged" means having gathered a certain number of page followers? Unclear. Either way, the total number of users targeted in this segment can reach a crazy load of 2,700,000 user accounts.
What do the new Facebook targeting options mean for B2B marketers?
As I've pointed out earlier, you could achieve similar results by manually marking relevant roles. Sure, it would take more time, but it would also give you more granular control and the ability to hyper-segment for each position.
For example, you may want to use different messaging for CISOs and CMOs when marketing a solution that benefits both the marketing and infosec departments in the organization.
So what are the new Facebook targeting options good for? Primarily for use in conjunction with other targeting segments and settings.
For example, suppose you're looking to reach IT executives in enterprises in the USA. In that case, you can cross the IT decision-makers segment with employer size (large) and get a relatively narrow target audience of 5,800 – 6,800 users only. Considering the audience size, we expect little engagement and exceptionally high CPCs.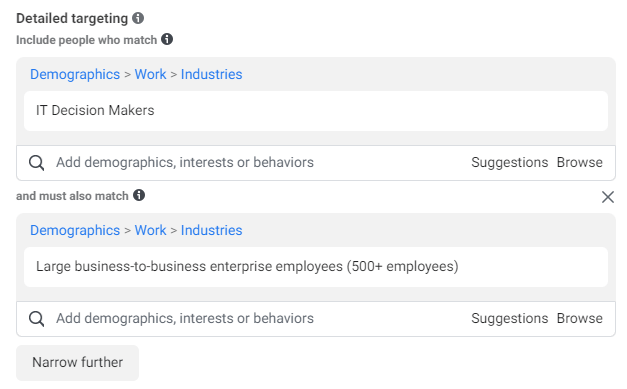 Another potential application for this new demographic segment is in narrowing down and micro-segmentation of existing lead and client lists and a filter in lookalike audience creation. For example, you should be able to create a lookalike audience from your newsletter subscribers, then narrow it down to the decision-makers in the bunch Meta generated.
It's worth adding that on the flip side, Meta is encouraging creators, professionals and freelancers to make their personal profiles into professional portfolios rather than create business pages to showcase their skills. The goal here is to set apart freelancers and self employed creators from businesses and brands for the purposes of more accurate B2B targeting for advertisers, though it is presented as a toolset for power-users and local celebrities of the platform.
How can the new Facebook / Meta targeting segments help your B2B social media strategy?
Regardless of how hard they try, Meta will never be LinkedIn with B2B advertising, not only because it's weird to get work-related ads alongside cat memes and images of your cousins. It's mainly because most experienced advertisers know better than to trust Facebook's preset targeting segments with their ad budgets.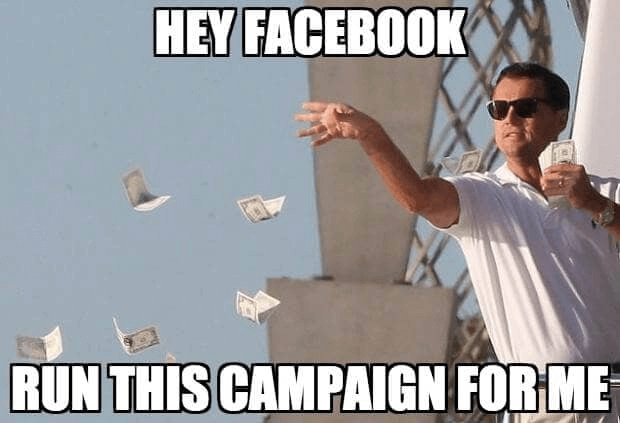 On a social network where any 14-year-old can dub themselves the CEO of their own business, it's hard to reach B2B decision makers even if they include their professional information on a non-professional social network profile. It still takes a lot of trial and error and creativity to twist the Meta ad manager to suit campaign goals and deliver positive ROI.
That said, Meta Ads are still beneficial to any B2B marketing strategy when used correctly and deliver relevant clicks at a third or quarter of the cost of clicks on LinkedIn. The B2B benchmark for CPC on Facebook is $2.52, while the cost-per-click benchmark for LinkedIn Sponsored Content is between $8 and $11. Though some industries are reported to have a CPC as low as $5.58 on LinkedIn, it is still more than double the average B2B click cost on Facebook.
The chances of generating new and fresh B2B leads from Facebook campaigns alone are slim. However, a data-driven cross-platform strategy that considers the many touch points between brand and business decision maker can benefit from well-thought-out Meta ad campaigns that work in synergy with content marketing and organic social media engagement.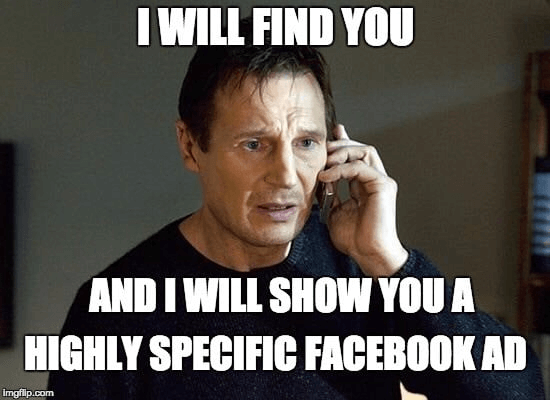 Juggling B2B Socials on B2C Platforms
Making it all fit into a lead generation machine is challenging for any B2B marketer. That's where mvpGrow comes in – we are here to plan, build and execute the perfect B2B marketing strategy for your business in a way that will be sure to capture the attention of your potential buyers and guide them down the funnel toward a purchasing decision.
Want to talk more about how to make B2B marketing on social media add to your bottom line? Drop us a line!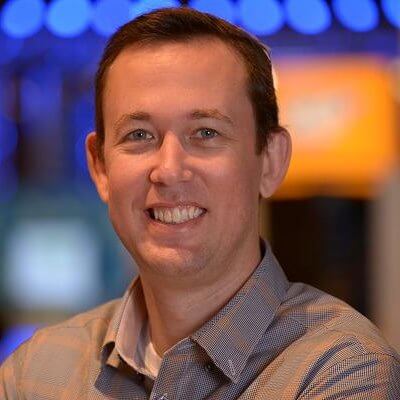 The Founder & Chief Getting Sh%T Done Officer of mvpGrow. After about 8 years as a hired hand some of the largest (and smallest) B2B SaaS companies worldwide I decided to hang up my employee slippers and lace up my growth agency cleats. But just because I'm an agency doesn't mean we can't chat (no charge). Please email me on any topic and I will gladly reply: eyal@mvpgrow.com