If you want your tech startup to be successful, you need a full stack of CRM, marketing, sales, and customer service technology. But purchasing business tools and getting them working together is an expensive, time-consuming process—and it's critical.
With 90% of startups failing, including 63% of tech startups, there's little margin for error. TechCrunch says the average startup spends approximately $7677.00 USD per month on IT technology. When you consider that Gartner forecasts a 5.1% increase in IT spending worldwide in 2023, and that a top reason startups go out of business is running out of money, the cost of being wrong has never been higher.
But what if there was a comprehensive solution from a trusted company that provides startups with a suite of reliable, full-featured tools at a discounted price?
Thanks to Hubspot, that solution is here. Hubspot for Startups provides the marketing, sales, and service solutions your business needs to attract customers and avoid becoming a statistic.
In this post, we'll take a deep dive into what Hubspot for Startups is, how it works, and why you should choose it for your startup.
What is Hubspot?
HubSpot is a well-known B2B CRM platform that supplies everything a growing business needs to provide best-in-class customer service, all together in one location. It offers a customer experience-centered set of sales and marketing tools that work seamlessly together, helping you avoid the issues that can come from a cobbled-together tech stack. HubSpot's tools are usable by businesses ranging from small startups to enterprises.
Founded in 2005, HubSpot was G2's top CRM in their Spring 2022 CRM Grid. Over 135,000 clients use it in 120+ countries, and the business is growing. HubSpot's total revenue for 2021 was $1.30 billion, a 47% increase over 2020. Clearly, they are doing many things right.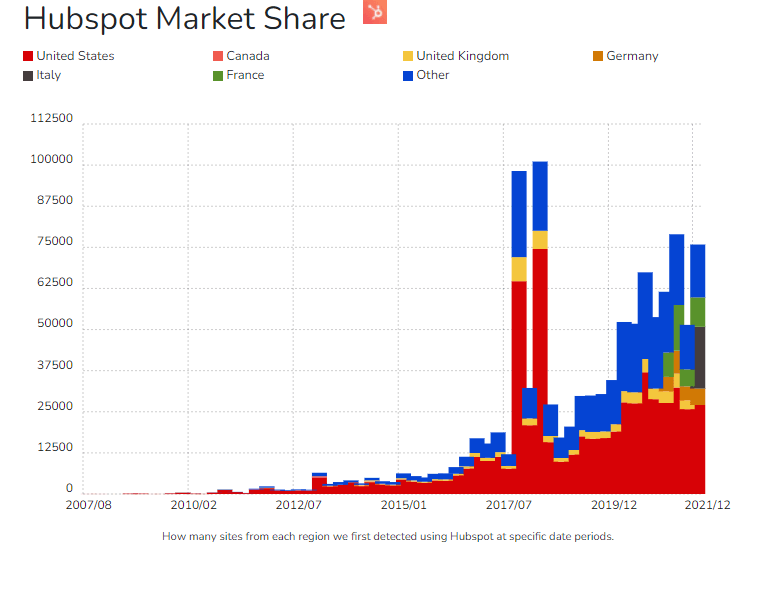 Along with being popular, powerful, and easy to use, HubSpot has two unique characteristics. First, inbound marketing is at the core of every solution they offer, built around the three cornerstones of Attract, Engage, and Delight. Second, these three cornerstones are arranged around a flywheel model instead of the traditional sales funnel. Designed to generate continuous momentum through delivering great customer experiences, the flywheel model offers businesses and their customers a more dynamic, connected relationship.
In the interest of helping B2B startups generate this kind of momentum more easily—and avoid the failure trap—HubSpot has launched its newest offer.
What is HubSpot for Startups?
The HubSpot for Startups program was formerly called the HubSpot Jumpstart Grant Program. It was created to provide founders of the most promising businesses worldwide with the tools and direction needed to concentrate on their marketing and sales activities and scale quickly.
As a former startup, HubSpot is aware of the challenges startup entrepreneurs experience in gaining the recognition your company, brand, and products merit. They hope to empower startup founders through this program by giving them what they need to market and expand their businesses with minimal upfront investment.
HubSpot for Startups offers eligible participants discounted rates of 30-90% off HubSpot's Professional or Enterprise level products, extensive resources, perks and discounts from HubSpot partners, 24/7 support, mentoring, and more. The package includes HubSpot's CRM (View a demo), Sales Hub, Marketing Hub, and Services Hub.
It's an excellent opportunity for a startup to build a professional-grade, cohesive tech stack at a substantial discount, and made even better by the various add-ons and bonuses offered in the program that help boost a startup's chances of success.
Who is HubSpot for StartUps for?
Eligibility for the program is limited to Seed-Stage or Series A startups only, and dependent on your startup's growth stage. You save more if you are in an earlier stage. There are no limitations on the type of company or product.
Interested startups also must be connected to one of HubSpot's partners and satisfy certain financial requirements to be eligible in one of three possible categories:
Your startup qualifies for up to 90% off HubSpot software in your first year, a 50%
Your startup qualifies for up to 90% off HubSpot software in your first year, a 50% discount in your second year, and continual 25% savings if you are a company with less than $2 million in investment.
Your startup qualifies for up to 50% off in your first year and ongoing 25% off discounts if the startup has raised more than $2 million in named investment up to and including Series A.
Your startup is entitled to 30% off in your first year and 15% off after that if you are a startup and a member of an approved entrepreneurial group.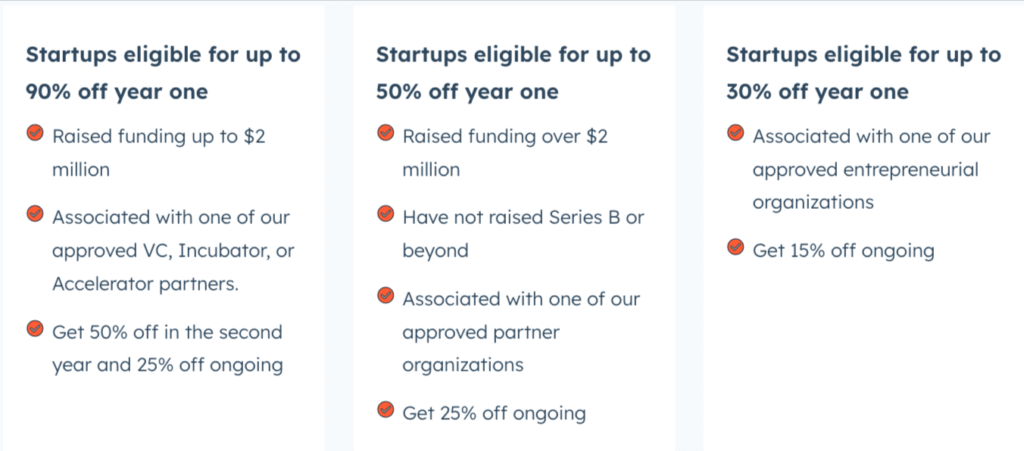 It's important to note that the program only applies to new HubSpot subscriptions and cannot be applied to any level of existing subscriptions.
Be advised that there are penalties for misrepresenting your startup's financial status to enter the program, including termination of your HubSpot subscription, removal of purchase discount, and repayment to HubSpot. As always, honesty is the best policy.
The good news is that the features and benefits are terrific once you have joined.
What's included with HubSpot for Startups?
The HubSpot for StartUps program includes:
HubSpot's fully customizable CRM
HubSpot Sales Hub
HubSpot Marketing Hub
HubSpot Services Hub
24/7 Customer Support
World-class resources (classes, templates, & toolkits)
1250+ Seamless Integrations with leading business applications
Unlimited Storage
Unlimited Users
Exclusive discounts & perks from companies like AWS, Stripe, & Segment
Startup Onboarding
Quarterly Training on implementing inbound marketing via Hubspot's tool
Deal Tracking
Pipeline Management
Reporting Dashboards
Account-based Marketing
Marketing and Sales Automation
Community Mentoring
HubSpot for Startups offers discounted pricing on net-new Professional or Enterprise level products only. Starter-level (Free) products are excluded unless bundled with qualifying Professional or Enterprise upgrades or purchases.
You might wonder why your startup should pay for HubSpot's CRM when it's available for free. Understand that the free levels of any HubSpot tools are acceptable for a taster but are limited in their application. When you upgrade to a paid tier, you unlock the software's full capabilities, including the CRM's interconnectivity with the sales, marketing, and services hubs.
Getting all this at a substantial discount creates a massive advantage for a startup and significant savings—but that's not the only benefit.

What are the benefits of Hubspot for Startups?
Along with all its software and support, the Hubspot for StartUps program offers several key benefits that make it a "no-brainer" for eligible businesses:
Startup Onboarding to HubSpot
Hubspot's Startup Onboarding is available to each startup that qualifies for the program. This premium service includes a strategy call with a startup specialist to assist qualified founders in creating an inbound marketing plan for their business to help them reach their objectives.
Qualifying companies can also get the technical support they need to set up their portal and 24/7 access to their support staff.
Quarterly Training
Qualified startup founders will receive exclusive quarterly training on applying the inbound marketing methodology using HubSpot's various tools provided to them by the program. They also get access to exclusive courses and tutorials in HubSpot Academy. This training will enable startups to draw in more qualified website visitors, convert them into leads, generate sales, and keep them on their sites.
Startup Community Mentorship
Startups that meet the program's requirements get access to a variety of top-notch educational and training opportunities taught by HubSpot team members and other authorities in their particular fields and sectors. Through the program's exclusive member community, qualifying startups can network and exchange knowledge.
Hubspot's Partner Community
Hubspot has a large group of partners to assist companies using the platform. When you work with a certified Hubspot partner, you're working with someone who has a thorough understanding of the platform, can offer important advantages, and can aid in your growth.
HubSpot's Tools "do what they say on the tin"
When you use HubSpot products, you know that they are going to work and work well together. The sheer number of users worldwide proves that HubSpot's solutions are reliable, productive, and ultimately profitable. Need more proof? G2 reviewers rated all of HubSpot's products at an average of 4.5 out of 5 stars, and Capterra reviewers gave them 4.55 out of 5 stars on average.
How much does Hubspot for Startups cost?
So far, the HubSpot for Startups program sounds pretty impressive. But there's got to be a catch, right? Perhaps a hefty application fee? Actually, the program is free to join, and the cost is the typical cost of HubSpot's offerings minus the discount offered in the tier your startup qualifies for.
For example, let's look at the current prices of two HubSpot services at the maximum 90% program discount level.
HubSpot's Marketing Hub price begins at $800/month at the Professional tier, and the Sales Hub price for that tier starts at $450/month. At the Enterprise tier, the Marketing Hub price is $3600/month, and the Sales Hub price is $1200/month.
Factoring in the 90% year-one discount (the maximum possible under the program), you would only have to pay $80/month for the Marketing Hub or $45/month for the Sales Hub at the Professional tier. At the Enterprise tier, the Marketing Hub price is $360/month, and the Sales Hub is a pittance at $120/month.
Seeing those savings, you might be ready to join right now. Here's how.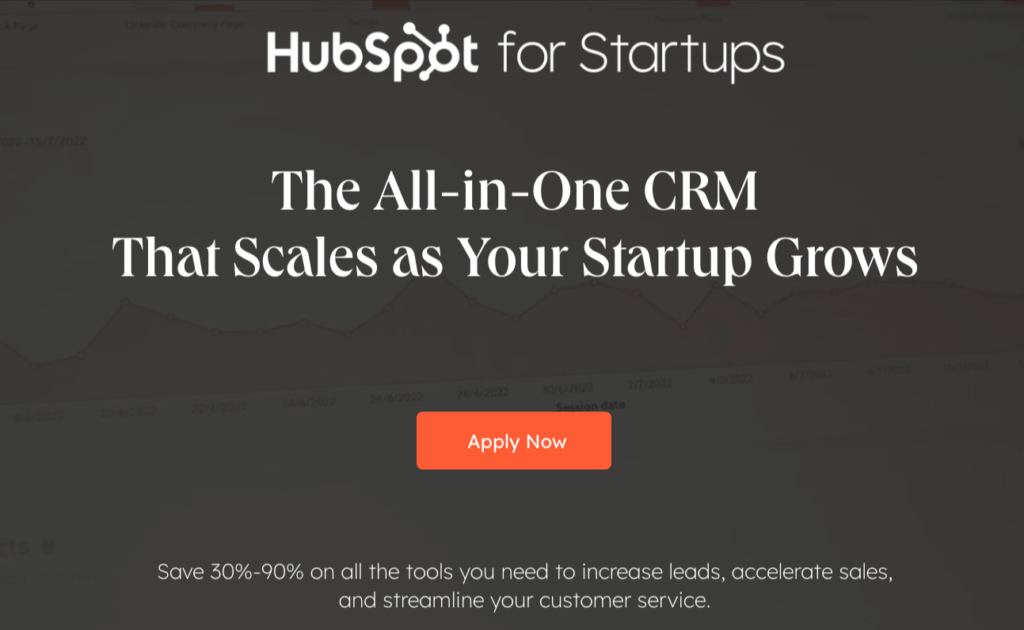 How to Join Hubspot for Startups
If your startup is eligible, joining the HubSpot for Startups program couldn't be easier. It only requires signing up for a HubSpot account and filling out an application form.
Apply for HubSpot for Startups here.
Don't Miss Out on HubSpot for Startups
HubSpot for Startups offers an impressive set of features, benefits, and discounts that will help boost any eligible startup's prospects for long-term success. Combining an industry-trusted provider with unique benefits, the program is certainly worth applying for, especially if your startup needs a reliable, comprehensive tech stack that seamlessly integrates CRM, sales, and marketing.
Another way to increase the program's value is by combining Hubspot for Startups with a marketing-as-a-service agency like mvpGROW, a certified Hubspot Gold Solutions Partner Program member. You'll save money over an in-house marketing department while taking advantage of mvpGROW's international team of marketing experts, including content strategy, lead generation, inbound funnels, conversion rate optimization, and more.

Book a free 30-minute session with us if you have any questions about HubSpot for Startups or growth marketing—we're ready to help your business grow!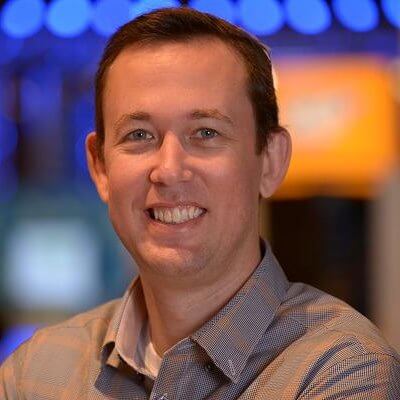 The Founder & Chief Getting Sh%T Done Officer of mvpGrow. After about 8 years as a hired hand some of the largest (and smallest) B2B SaaS companies worldwide I decided to hang up my employee slippers and lace up my growth agency cleats. But just because I'm an agency doesn't mean we can't chat (no charge). Please email me on any topic and I will gladly reply: eyal@mvpgrow.com