The internet of 2020 is full of brands, memes, and influencers vying for everyone's precious attention. However, despite the turning into a quick fix for entertainment junkies, it still deserves its old nick: The Information Superhighway. The internet, more like Google, is still very capable of delivering in-depth knowledge from trustworthy experts. Nowhere is this more true than in B2B marketing, where buyers aren't (as) swept up by trends and viral ads.
B2B buyers are increasingly using social media and user-generated content to research their major purchases. The reason being, that industry publications are rife with advertisement, which makes it hard to judge a real review from one a vendor paid for. Therefore, social or user generated content platforms like Quora, G2Crowd, and Capterra are gaining popularity as sources for software and other B2B product reviews.
This presents B2B marketers with a new playground. Launched in 2009, Quora has emerged as a viable platform for delving beyond surface-level information and trading in substantive analysis and discussion from actual thought leaders.
In particular, Quora has traction and credibility in the business and technology sectors and is widely used as a resource by individuals at all levels in those industries. Here are a few statistics about the viewership you're likely to encounter there:
Over 300 million monthly active user discussing over 400,000 different question topics
Demographics lean male—the gender ratio is about 55/45%
The user base is educated: 65% have a college degree
Income levels are high; 54% of users have a household income exceeding $100,000 per year
60% of advertisers on Quora are B2B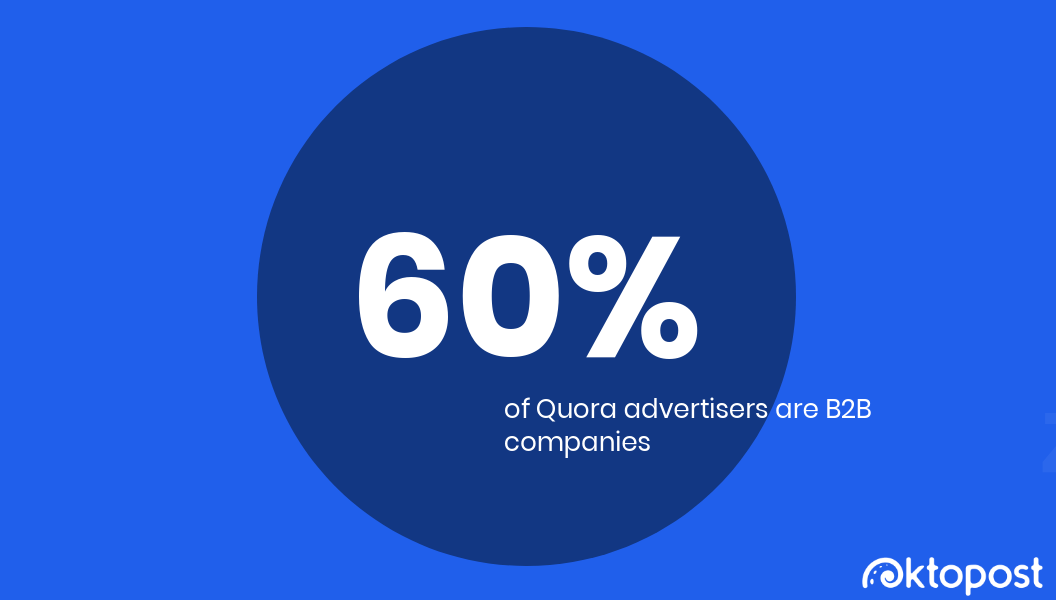 In 2016, Quora Ads was launched, providing businesses with various ways to target and connect with Quora users to deliver relevant ad content. Making good use of Quora Ads can put your marketing content in front of buyers at precisely the time and context when they're seeking out information to guide their B2B purchases.
What Are Quora Ads?
On Quora, users can post questions and receive answers from other users on the site, many of whom are professional experts. Users can vote on the quality of answers, pushing the best and most relevant ones to greater visibility.
There are three types of ads you can buy: text ads, image ads, and promoted answers. Text and image ads can appear in a user's feed (their homepage, showing all of the topics they follow), on specific question pages, or on broader topic pages. Promoted answers appear alongside regular answers, but with higher placement.
Quora Ads have two big advantages for B2B marketers. First, they're great for targeting leads based on specific interests, and many potential leads will come to Quora specifically to research purchasing decisions. When they see your ads, they're seeing content that's directly relevant to their interests. The other significant advantage is that Quora Ads are very affordable and cost effective compared to other platforms that might have a wider (but less targeted) reach.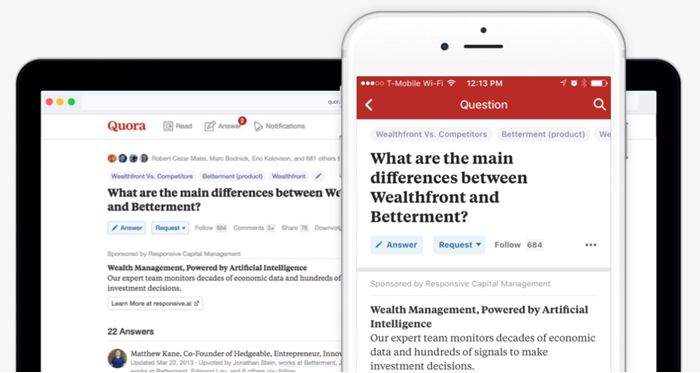 Why Should B2B Marketers Use Quora Ads?
There are several factors that make Quora especially well-suited for B2B advertising. The B2B purchasing journey isn't driven by emotion or impulse; it's almost always a deliberative process that relies heavily on research, and Quora is a site specifically built around research and self-educating. Even if you can target the right buyer profiles on a site like LinkedIn or Twitter, you can't be sure they're visiting those site with their B2B purchasing thoughts in mind. On Quora, it's very likely that the target's reasons for visiting the site will align with the marketing message you're delivering.
Quora also naturally lends itself to fine-grained targeting. No matter how niche your product, chances are good that there are already questions about it on Quora, if not entire question categories. Quora will let you drill down to extremely specific subcategories and keywords, allowing you to zero in on your target profiles with laser-sharp focus.
Another great benefit of advertising on Quora is that you're not limiting your audience to registered Quora users. Quora pages are visible to unregistered users and often show up highly ranked in Google search results, especially for very specific or uncommon questions. This can greatly expand the reach and ROI of your advertising budget, since even people who have never heard of Quora will often end up on Quora pages simply by Googling for information.
If there's a downside, it's that hyper-targeted ads may be too limited in reach once they've been seen by targeted members of the existing user base. The people you want to reach won't always opt in to the interest categories you're advertising in, so by focusing too tightly you can miss out on them.
What Types of Campaigns Can I Run?
When you launch an ad campaign on Quora, you'll have to select one of four campaign objectives:
App Installs: A campaign to get users to download and install your app on their devices.
Brand Awareness: Success in this campaign would be measured in brand awareness and engagement metrics.
Conversions: Users who click on ads must complete a specified action (registering, placing an order, adding to favorites, etc). For tracking purposes, you'll have to install a Quora pixel on your site.
Traffic: The goal of the campaign is to increase visits to your website.
As with any type of platform or campaign, requirements differ depending on your goals. There's no one-size-fits-all option for selecting the right type of campaign. Your campaign type, as well as any other creative and targeting variables, must always be informed by an underlying strategy.
What Ads Can I Run on Quora?
Quora Ads allows inline image and text-based ads, similar to what you might see on Google or other commonly-used platforms. Quora places some restrictions on the grammatical content and structure of text ads, in order not to disrupt the tone and feel of the question-and-answer format.
Unique to Quora is the "promoted answer" ad option, which boosts the visibility and distribution of answers you have posted, as a Quora user, in response to questions from other users. Using promoted answers can boost your signal on the site and help you establish credibility as an expert and thought leader. This in turn can organically increase awareness of your brand and products.
Of course, this approach won't work for long if you don't have actual knowledge and expertise backing your promoted answers. But for those who have the knowledge but have not yet found the right way to leverage it, Quora has tremendous potential to help you present your qualifications, demonstrate your expertise, and find your audience.
What Are the Targeting Options for Quora Ads?
Quora offers a diverse range of options for targeting your ads:
Audience: you can choose the audience segments your ads will be shown to, such as previous visitors to your own site, lookalike audiences, or individuals matching a provided list.
Broad: Quora uses machine learning to automatically select ad targets for you.
Browser-specific: ads will appear only on certain platforms, devices, or browsers (for example, an app install campaign will automatically be targeted to display only on mobile devices).
Interest: shows ads to users who have previously interacted with pages related to a specific topic.
Keyword: ads appear on question pages containing the specified keywords.
Keyword History: ads will be shown to users who have previously searched for certain keywords.
Question: ads will be displayed on pages for certain specified questions, or for users who have viewed those questions.
Question History: displays ads to users who have visited certain specified question pages within the last 30 days.
Topic: ads appear on category pages for existing Quora topics.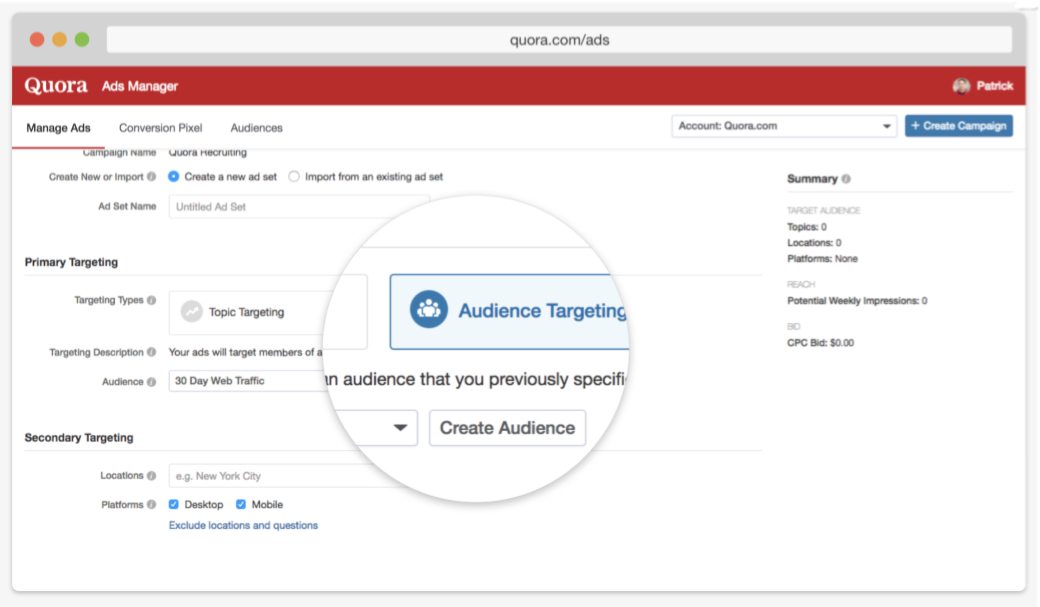 On top of the above targeting options, you can also specify additional criteria related to geolocation, device, browser, and demographics such as gender. There is also an option to have ads appear in Quora Daily Digest emails.
The option that has shown the highest results for B2B marketing is question targeting, which, when combined with other targeting criteria, can give you pinpoint accuracy in reaching the B2B decision-makers who need to hear your messaging the most.
How to Launch a Quora Ad Campaign
Quora Ad campaigns are launched from your Quora Ads account, which will be linked to your regular Quora user account. Once you have registered and logged into your Quora Ads account, you'll see a "Create Campaign" link.
To create a new campaign, you'll need to give it a name and choose the campaign objective: App Installs, Awareness, Conversions, Traffic.
Next, you'll need to set the daily maximum budget, the lifetime budget, and the start and end dates of your campaign. The minimum amount to start a campaign is $5.
The next step is to choose your targeting from among the many options described above. You'll also enter your maximum bid amount for clicks or impressions.
Now you can create ads, giving each set a name and choosing from the image, text, or promoted answer options.
Finally, you can track the performance of your campaign in the Manage Ads section of your Quora Ads account. You can view the number of impressions or clicks, click-through rate, conversions, amount spent, remaining budget, and other statistics.
The New B2B Marketing Platform
Quora offers B2B sellers unique possibilities as a platform for advertising and organic marketing. Buyers want to feel informed about a product before they enter into discussions with salespeople, and Quora is a known quantity with a good reputation as a place to find accurate advice and information.
Originally published on Oktopost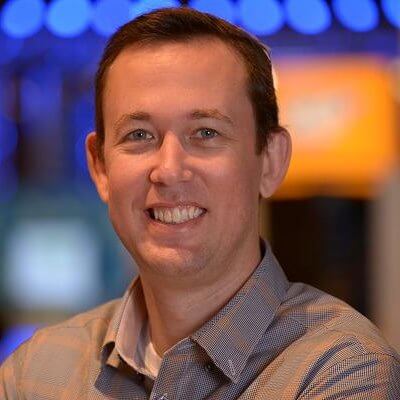 The Founder & Chief Getting Sh%T Done Officer of mvpGrow. After about 8 years as a hired hand some of the largest (and smallest) B2B SaaS companies worldwide I decided to hang up my employee slippers and lace up my growth agency cleats. But just because I'm an agency doesn't mean we can't chat (no charge). Please email me on any topic and I will gladly reply: eyal@mvpgrow.com