For your B2B content marketing to pay off, you need written content that engages potential customers. The content must speak their language, answer their questions, and position your brand as an industry leader. Your content not only needs to rank high on Google, but it also needs to provide value to your prospects and marketing tactics.
B2B content marketing is the foundation of a steady flow of leads. 82% of marketers actively use it, and 52% of B2B buyers say they're more likely to buy from your business once they've read your content. Having a comprehensive content marketing strategy is vital to your success.
But what may be even more vital to your success is finding the right person to write the blog posts, newsletters, and whitepapers that are integral to your sales funnel. What you need is a B2B Content Writer who can increase the effectiveness of your content marketing efforts with their linguistic wizardry and understanding of industry best practices. This post will show you how to find a B2B content writer that is right for you.
How does B2B content differ from B2C?
Before hiring someone to write B2B (Business-to-Business) content, it's crucial to understand what it is and how it differs from B2C (Business-to-Consumer) content.
Business-to-Business
A B2B content strategy connects your company's products or services to other businesses that need to purchase them. The purpose of most B2B content is lead generation or lead nurturing, with a target audience of multiple stakeholder personas within an organization that eventually narrows to the purchasing decision-makers.
This audience responds to facts and figures that show how your offerings will save them time and money. Over the longer B2B sales cycle, leads will be led down your sales funnel by long-form educational content such as blogs, case studies, and email nurturing campaigns.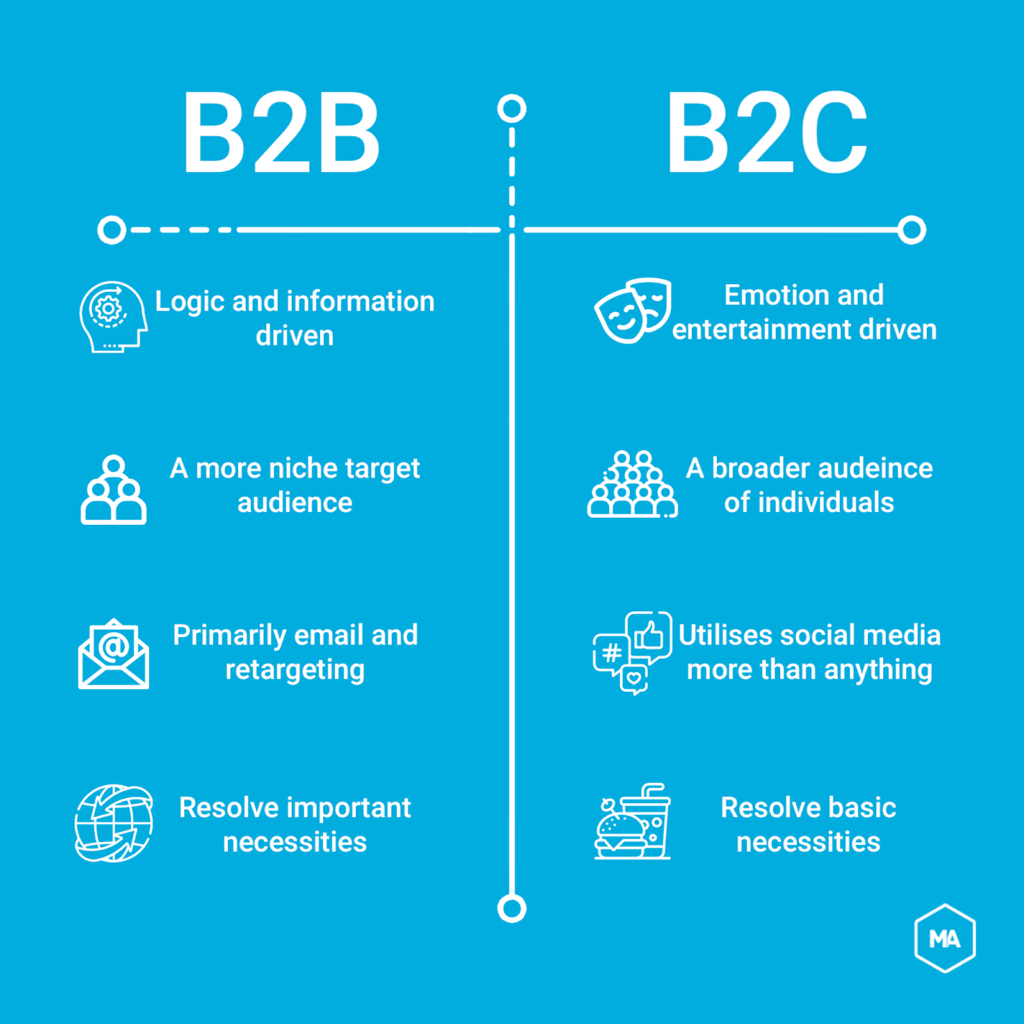 Business-to-Consumer
Conversely, a B2C content strategy focuses on getting a single consumer to purchase your product or service. The purpose of the content is to identify a consumer need and how your offering fulfills it, with a target audience of a singular persona that you are seeking to build engagement and brand awareness until they purchase.
Unlike the B2B audience, the B2C audience responds to emotional persuasion or entertaining content driven by fashion or trends. The sales cycle is shorter, and so is the content. Social media posts, product videos, and customer testimonials are required content in this environment.
Understanding these differences is a key factor in all areas of a B2B content marketing strategy, and especially in B2B content writing.
What exactly is a B2B content writer?
B2B content writers help businesses that sell to other businesses meet their content marketing goals by writing key educational deliverables such as blogs, whitepapers, emails, and more for inbound marketing, outbound marketing, and demand generation campaigns.
Within their job description, B2B content writers are generally responsible for the following:
Research and information gathering
Understanding the client's business and niche
Communicating with the client
Being capable of writing different kinds of content
Understanding the content strategy and sales funnel position behind each deliverable
Developing content that engages and resonates
Ensuring all content is optimized for search and meets applicable grammar and style standards
Meeting deadlines
B2B content writers are different from B2B copywriters, who write more persuasive, sales-oriented deliverables such as sales and landing pages, video sales letter (VSL) scripts, and sales email sequences. However, there is often an overlap between job descriptions (such as website copy) and the capabilities of individual writers. If you can find someone good at both, hire that person!
In contrast, B2C content writers write shorter content generally aimed at creating an emotional response to generate a quick sale of consumer goods. This content might be social media posts, paid advertising, or product video scripts.
While their overall responsibilities may be the same as B2B content writers, the philosophy and business model behind their writing is very different. Again, you may find that an individual writer is capable of doing both B2B and B2C content, as the line between the two can be blurry.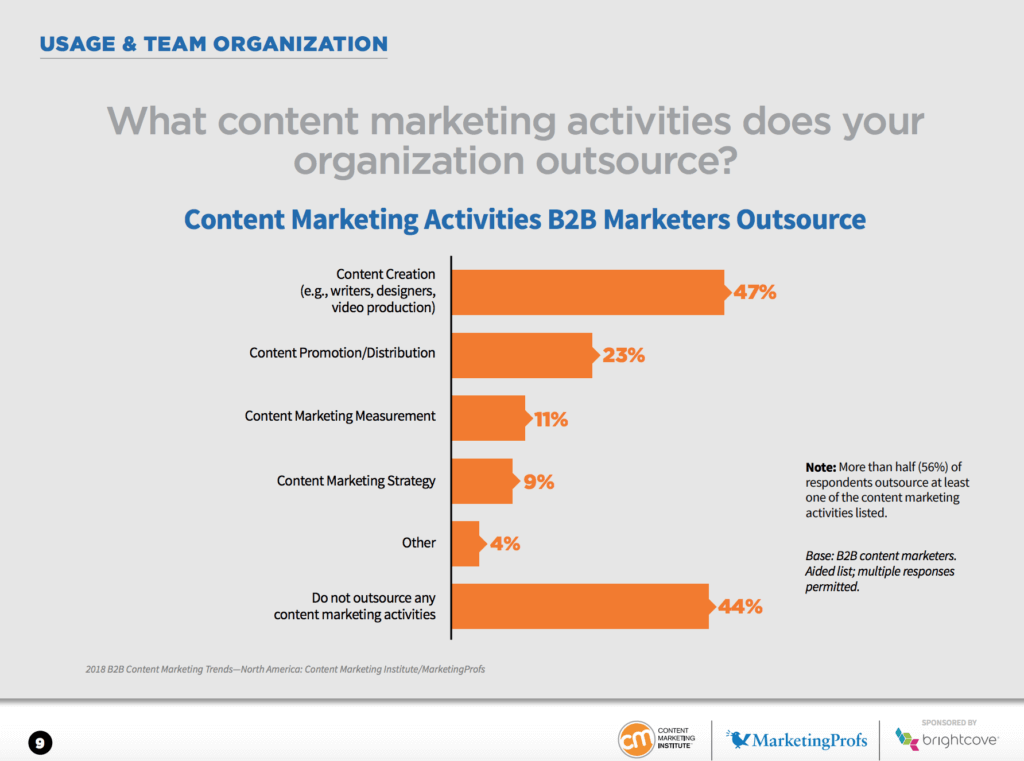 Why hire a B2B Content Writer?
When you consider how essential content marketing is to B2B and how much content is required to do it effectively, hiring a capable B2B content writer is a no-brainer. For example, research by HubSpot shows that 48% of companies with a content marketing strategy employ blogging. 56% of those marketers say it's effective, and 10% say it generates the most significant ROI. You can't leave that kind of responsibility to anyone.
Hiring a B2B content writer offers several key benefits:
It saves time – Having an experienced professional writer to handle your content needs means the writing gets done faster. It also allows members of your business to focus on what they do best (such as growing the company) while someone who can create better results handles time-consuming writing jobs, which will need fewer revisions.
It gets results – Bob from accounting may also be a good writer, but do you really want him writing bottom-of-the-funnel content that will be critical to conversions? Or would you rather have that piece written by an experienced pro who understands the buyer's journey, your niche, the sales funnel, your ideal customer's needs and wants, and SEO? Hiring a B2B content writer will bring you a higher ROI and help you get the results you need for each piece of content. Bob? Not so much.
It gives you a powerful tool for growth – Think of it this way: when used properly, content marketing drives leads and sales. If you have a small team focused on bigger-picture tasks like product development or overall strategy, it makes sense to bring in someone who can specialize in the things that your team doesn't. A B2B content writer becomes a powerful tool for business growth that solves your prospects' problems, answers their questions, gives them value, and creates relationships—all with a few well-chosen words.
How to Find a B2B Content Writer That Is Right for You
While every business has different needs for content writing, there are general guidelines you can follow to ensure that you hire a writer that's an excellent fit for your organization.
1. Determine Your Strategic Needs
Your content strategy will affect the hiring process, so it's best to clarify this before you start interviewing potential copywriters.
First, consider your KPIs and what skills or experience a writer should have to help you achieve them:
Organic traffic requires someone experienced in SEO and keyword analysis.
Increase revenue is best met with copywriting skills in writing strong CTAs.
For lead generation you'll need ebooks or other lead magnets.
Create a list of goals and the skills and experience you'll need to meet them.
Next, consider your budget. When it comes to paying writers, the rule is that you get what you pay for. More expensive writers are often worth the extra cost because of their higher ROI, while cheap writers often cause more problems than they solve. As a starting point, try to identify a range of prices you are willing to pay for different deliverables based on current market rates.
2. Decide What You Want in a Writer
You've already identified the skills and experience needed by a content writer to meet your goals. But that's only one part of the equation. Here are a few other traits to consider to help you decide what you want in a B2B content writer:
Talent vs. Experience – There's a good argument for hiring a talented writer with less experience and training them. Usually, that argument has to do with their lower prices. However, finding the right person can be a boon to your marketing efforts (and budget) if you can afford the trial and error of learning on the job. In general, if your content is very technical or niche, it's better to go with someone with expertise in the field.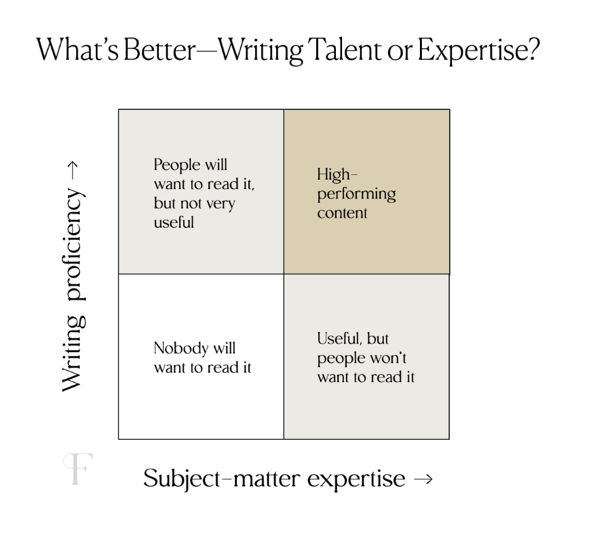 Understanding B2B Content Writing – Having a keen sense of the vagaries of B2B content, the buyer's journey, sales funnels, and how to write to businesses as opposed to consumers is critical in making the onboarding process fast and maximizing results. A working understanding of SEO is also essential.
Writing Skills – You want a writer who writes clearly, and effectively and can communicate to a target audience based on a brief. They must use proper grammar and spelling, avoid plagiarism, and show attention to detail, especially in formatting. Research skills are fundamental.
Soft Skills – Ideally, you're looking for a writer who's a willing learner, flexible, adaptable, and a great communicator.
3. Finding a Content Writer
Now that you've developed a profile of your ideal B2B content writer, where do you find them? First, your prospective writer must be vetted in some way. Whether through a colleague referral, client testimonials, or platform reviews, you need to know that they can do what they say they can do.
The best ways to find a vetted B2B content writer are:
Referrals – A referral from a friend, colleague, or another writer is probably the best way to find a reliable writer quickly.
LinkedIn – The business social media platform of choice, LinkedIn is great for finding writers, especially those specializing in niches like cybersecurity or SaaS.
Google – Google is often overlooked when searching for writing talent. Fortunately, most reputable writers have websites that host sample portfolios. Google "Freelance B2B Content Writer" and start combing through the search results.
Freelance Writer Job Boards & "Content Mills" – These options are a mixed bag. On the one hand, many candidates can be found in one location. On the other hand, there may be subscription fees to use the boards, and often lower-quality writers compete in a race to the bottom on pricing, especially on "content mill" sites. However, they may be the right solution for certain content needs and budgets.
4. Hiring a B2B Content Writer
Now that you know what you need and have found a pool of B2B content writer candidates, how do you sift through them and find gold? Here's a process that will help you winnow it down to a winner:
Evaluate Talent – To evaluate their talent, review a writer's portfolio, particularly for the deliverables needed within your strategy. Is the writing great? Does it clearly convey the messages it's supposed to? Is the writer focused on a particular business niche or deliverable (such as tech blogs)? Or do they show a surprising range? Are there typos and grammatical errors, or is all the formatting up to snuff? Be comfortable with a candidate's skill level before moving on to the next step. Also, keep an eye out for talented writers you may be able to develop.
Evaluate Experience and References – Take a deep dive into the writer's resume. Are you comfortable with their experience level and background based on your goals and needs? Have they worked in your industry or a similar one? Does their vetting check out? Do they have positive reviews or testimonials? Are they reliable? Be sure that "it does what it says on the tin" before moving on.
The Interview – Set up an interview with the candidate. During the interview, assess them for fit within the company culture. Do they seem like someone you and your team want to work with? What is their writing process? Do they have any issues, such as an ego about revisions? Are they on time, pleasant, and inquisitive? How are they at collaborating, especially in teams? If it seems like a good fit, you could hire at this point or move on to the next step.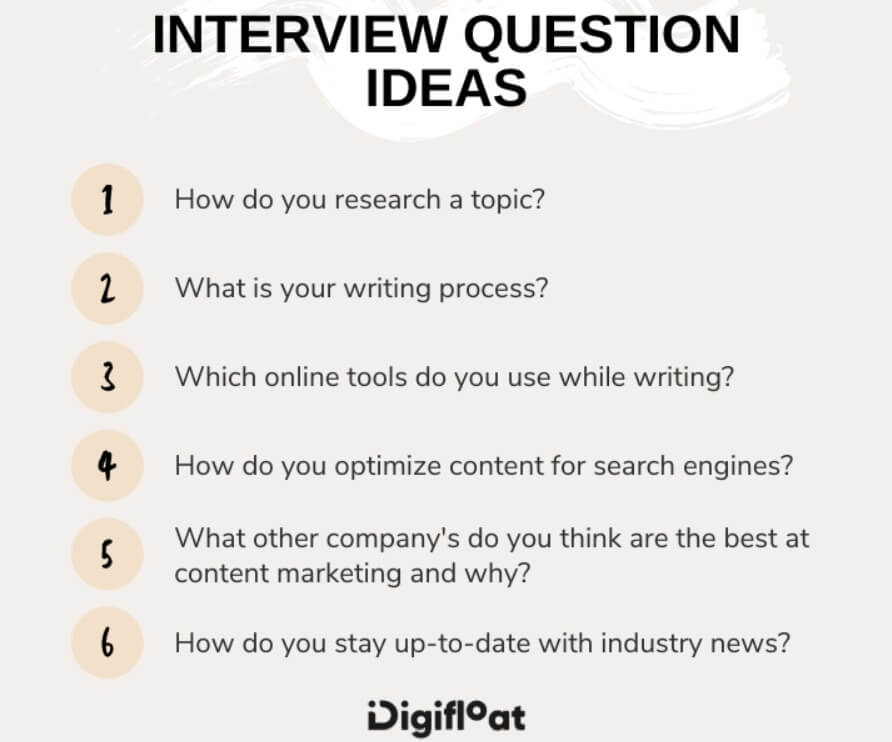 Paid Trial Project – The paid trial project is an excellent option if the candidate has not previously written in your niche or market. You can try working with someone new on a one-off basis without committing to anything other than the fee. You have a keeper if they knock it out of the park. If they do a poor job or miss deadlines, you know to look elsewhere. Note that any writer worth their salt will turn down a free trial (unless they are inexperienced), so it's better to pay a fair market rate.
Hire Your New B2B Content Writer – Congratulations! You've followed the process and found your new writer. Be sure to negotiate a rate and responsibilities, and put it all down in a contract.
The Marketing Agency Option – mvpGrow
While this post has made hiring a great B2B content writer for your business easier than ever, there's another option—hiring mvpGrow to act as your virtual marketing department and content writing team.
At mvpGrow, our internationally distributed team of vetted writers offers you the opportunity to scale your content marketing rapidly. Working within a comprehensive, co-created strategy, our writing team gives your brand experienced researchers, writers, and SEO specialists, without you having to hire them individually. We're data-driven, speak your language, and are intimately familiar with startup, SaaS, tech, and marketing companies.
Book a call with us to talk about how mvpGrow's "marketing agency as a service" can provide you with content marketing that converts, written by our team of ace B2B content writers. We've got the high ROI wordsmiths you need to succeed.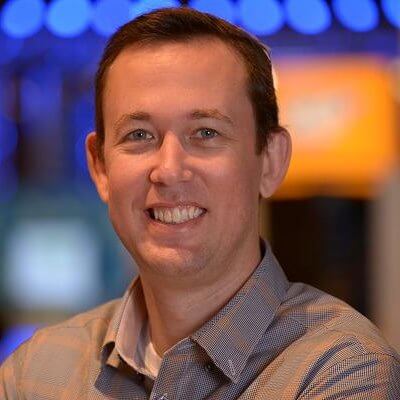 The Founder & Chief Getting Sh%T Done Officer of mvpGrow. After about 8 years as a hired hand some of the largest (and smallest) B2B SaaS companies worldwide I decided to hang up my employee slippers and lace up my growth agency cleats. But just because I'm an agency doesn't mean we can't chat (no charge). Please email me on any topic and I will gladly reply: eyal@mvpgrow.com