One of the main quests for any B2B startup is a fat pipeline. A full funnel of leads means cash flow stability and predictable revenue, which gives a startup more resources to allocate toward growth. Most importantly, a fat pipeline gives investors confidence—and with VC funds scarce, that value can't be understated. The question is, what's the best marketing strategy to fill your pipeline to the brim?
The answer is Account Based Marketing (ABM). A strategic approach where individual accounts or companies are targeted and treated as distinct markets, ABM focuses on a specific group of high-value accounts instead of a broad audience. Does it get results? A 2022 survey of ABM's business impact showed that 84% of respondents experienced pipeline growth.
However, ABM is complicated. It requires personalized content and campaigns designed to create deeper engagement and higher conversion rates. The silos between sales and marketing must be broken down, so they can collaborate on the unique needs of each account. Fortunately, an array of powerful ABM marketing tools are available that simplify and automate tasks while growing your pipeline.
What are ABM marketing tools?
ABM marketing tools are specialized software solutions that facilitate and optimize the account based marketing approach. These tools enable businesses to target, engage, and convert high-value accounts more effectively by streamlining the processes of planning, running, and measuring ABM campaigns.
Leveraging the power of ABM marketing tools can significantly boost your company's bottom line, as research highlighted that 77% of businesses employing ABM strategies reported increased revenue.
Types of ABM Marketing Tools
1. Data and Account Selection Tools identify and prioritize target accounts based on data-driven insights. They can analyze historical data, intent data, and other relevant factors to pinpoint accounts most likely to convert.
2. Content Personalization Tools help create and deliver personalized content tailored to each account's specific needs and interests.
3. Campaign Management and Execution Platforms facilitate the design, launch, and management of targeted marketing campaigns. They might include features for email marketing, ad targeting, event management, and more.
4. Sales and Marketing Alignment Tools foster collaboration between sales and marketing teams. They might include features for lead-to-account matching, account engagement scoring, and joint dashboards.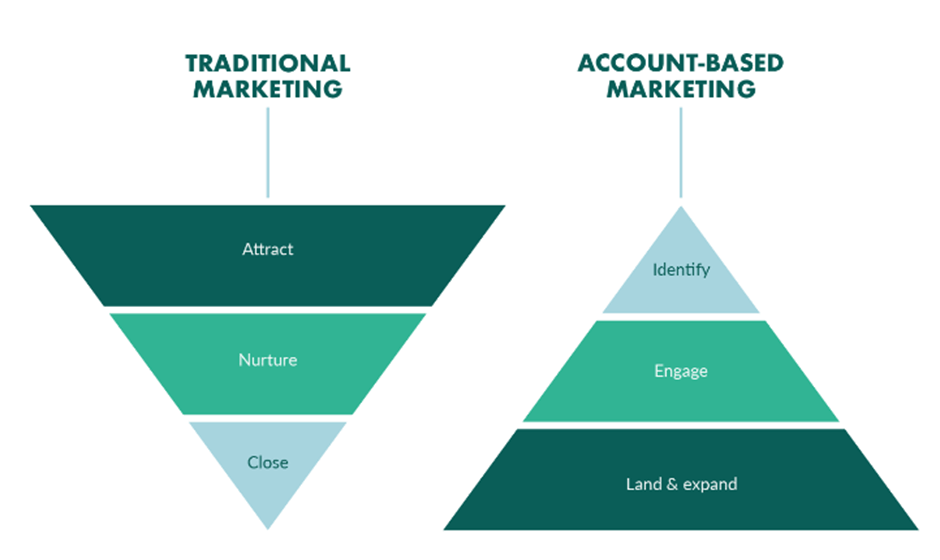 5. Reporting and Measurement Tools provide insights into the effectiveness of ABM strategies. They offer detailed analytics on account engagement, ROI, pipeline impact, and more.
6. Programmatic Advertising Platforms help businesses automate the purchase of targeted ads for specific accounts or segments. This ensures that the advertisements reach the intended audience.
7. Retargeting Tools enable businesses to "follow" targeted accounts that don't engage on the first interaction, displaying relevant ads to re-engage them.
8. Chatbots and Conversational Marketing Platforms facilitate real-time interactions with target accounts when they visit a website, allowing immediate engagement and qualification.
Benefits of ABM Marketing Tools
ABM marketing tools offer significant benefits, including:
Precision Targeting – Focusing more efficiently on high-value accounts.
Sales and Marketing Alignment – Fostering seamless collaboration between teams.
Enhanced Personalization – Tailoring content for specific accounts or segments.
Efficient Resource Utilization – Achieving higher ROI by concentrating efforts and increasing scalability.
Shorter Sales Cycles – Accelerating B2B conversions with focused strategies.
Data-Driven Insights – Gaining actionable insights from robust analytics.
Improved Customer Relationships – Cultivating trust through tailored interactions that provide value.
Features of ABM Marketing Tools
As we've seen, many types of ABM tools have different features, depending on the tool's function.
When choosing an ABM marketing tool, make sure it fits well with your organization's ABM marketing strategy. The tool should make your workflow easier and support your business goals. Integrating with your CRM and other marketing software will make your ABM efforts more efficient.
Consider what functions you need the tool to do and the data involved. Think about how you'll get account data, which records need updates, the kind of data you'll record, who should see it, what needs to be evaluated, and where else this data should go.
To simplify this process, here's a survey of the best ABM marketing tools to fatten your pipeline.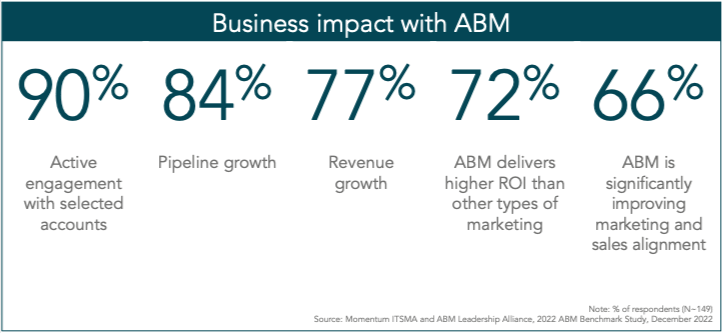 Top 8 ABM Marketing Tools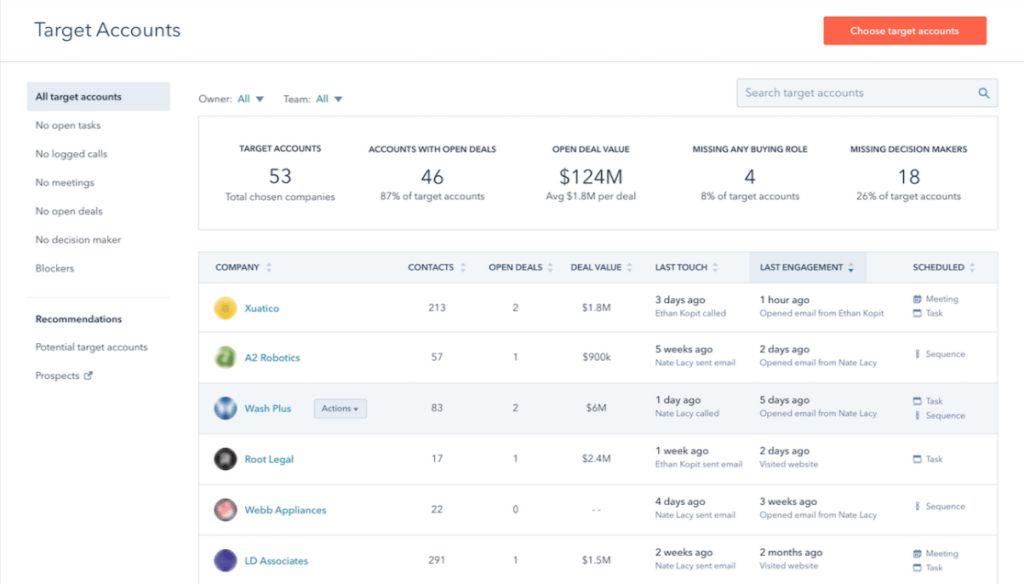 Best for: Businesses seeking an all-encompassing marketing, sales, and ABM platform.
Main Features: HubSpot, renowned for its CRM expertise, offers an inclusive marketing software suite with robust ABM capabilities. The software empowers marketers to create ideal customer profiles, pinpoint valuable target accounts using AI, and foster collaboration between sales and marketing via integrations with platforms like Slack and LinkedIn. Features include prospect scoring, content personalization, and comprehensive tracking of an account's journey.
Pricing: Entry-level tools are free. Starter level begins at $18/month, and Professional begins at $800/month.
Review: "It is a user-friendly, compact and powerful tool with comprehensive marketing automation features. It is an all-in-one solution for business with CRM integration."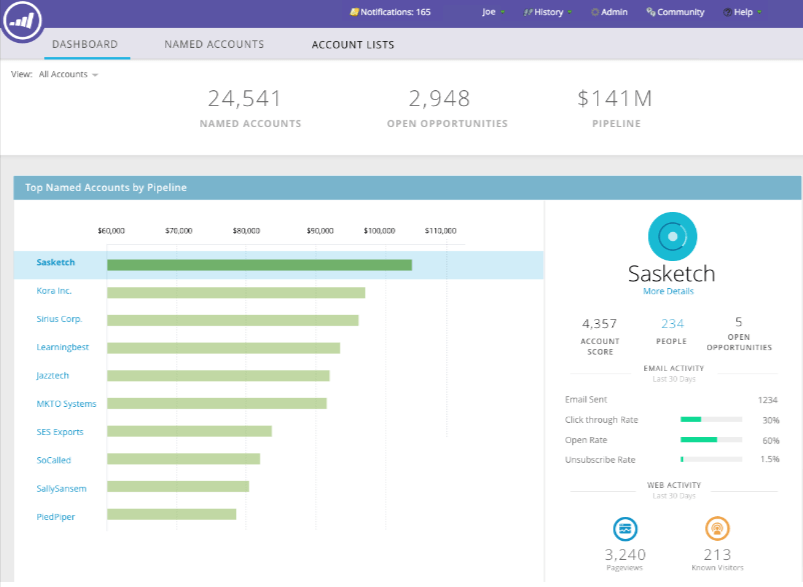 Best for: Large marketing and sales teams
Main Features: Adobe Marketo Engage is a comprehensive marketing automation solution. This platform offers many valuable features, such as account identification using AI, multichannel content personalization, and revenue attribution tools. It excels in integrations, including Salesforce, Google Ads, and Adobe Experience Cloud. Designed with large teams in mind, Adobe Marketo Engage emphasizes user roles, permission controls, and offers advanced insights into buyer behavior.
Pricing: By request
Review: "Marketo Engage has great tools to target your audience, report on the results of your email campaigns, and design aesthetically pleasing emails and landing pages."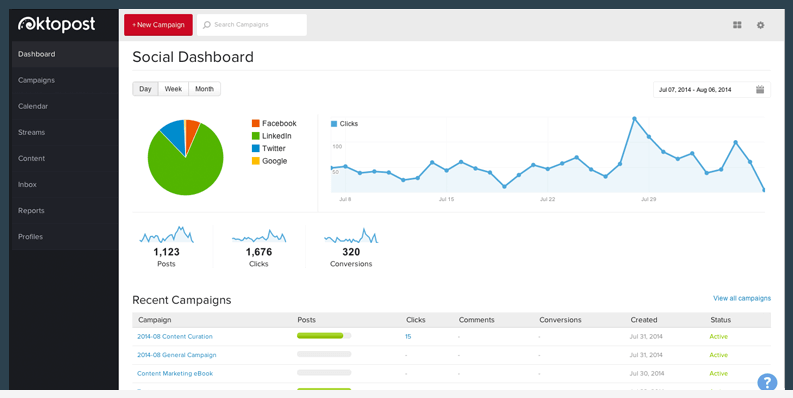 Best for: Social media account targeting
Main Features: Oktopost is a leading social media management platform tailored for B2B marketing. It boasts features that support ABM, including targeted content delivery, lead tracking, and engagement metrics. With Oktopost, businesses can personalize their social outreach to specific accounts, gaining deeper insights into engagement patterns. Its integrative capabilities, including LinkedIn, ensure better ROI tracking and enhanced alignment between marketing and sales.
Pricing: By request
Review: "The platform is very user friendly—very easy to schedule posts on multiple platforms. The data reporting/custom reports are also invaluable."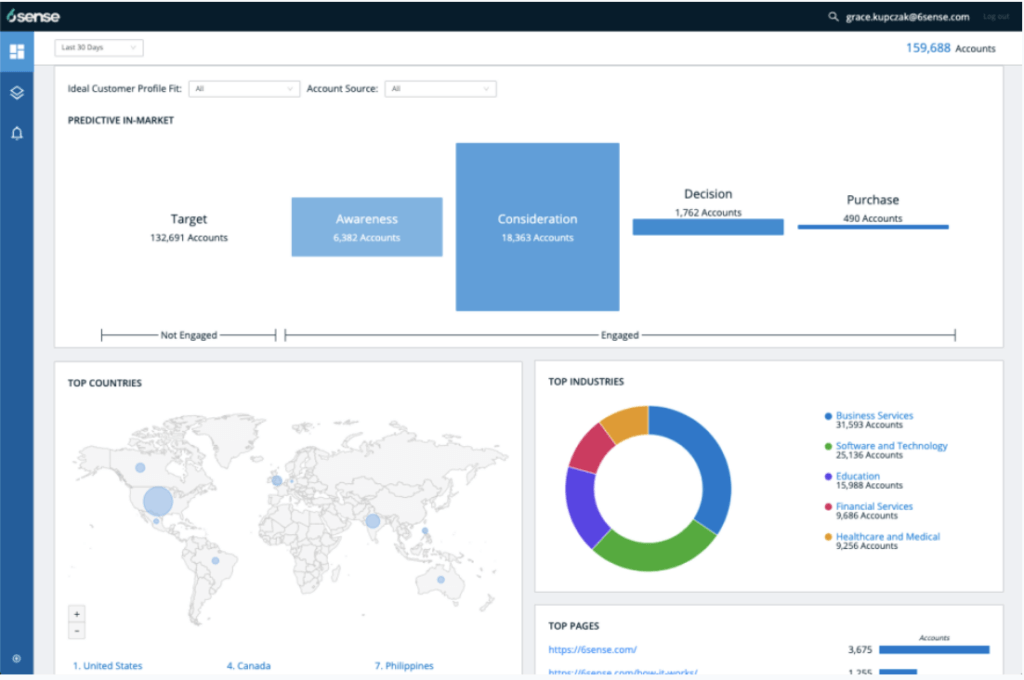 Best for: AI-powered modeling with predictive analytics and revenue forecasting
Main Features: 6sense is an account engagement platform to streamline how organizations manage their sales pipeline and conversion to revenue. Leveraging its Revenue AI technology, 6sense identifies anonymous buying signals, targets specific accounts at optimal times, and offers channel and message recommendations. It provides various capabilities, including revenue forecasting, real-time account prioritization, and integrations with platforms like Oracle Eloqua and HubSpot.
Pricing: By request
Review: "Being able to utilize the intent data and segmentation to narrow our target audience has been a great way to increase our pipeline coming in."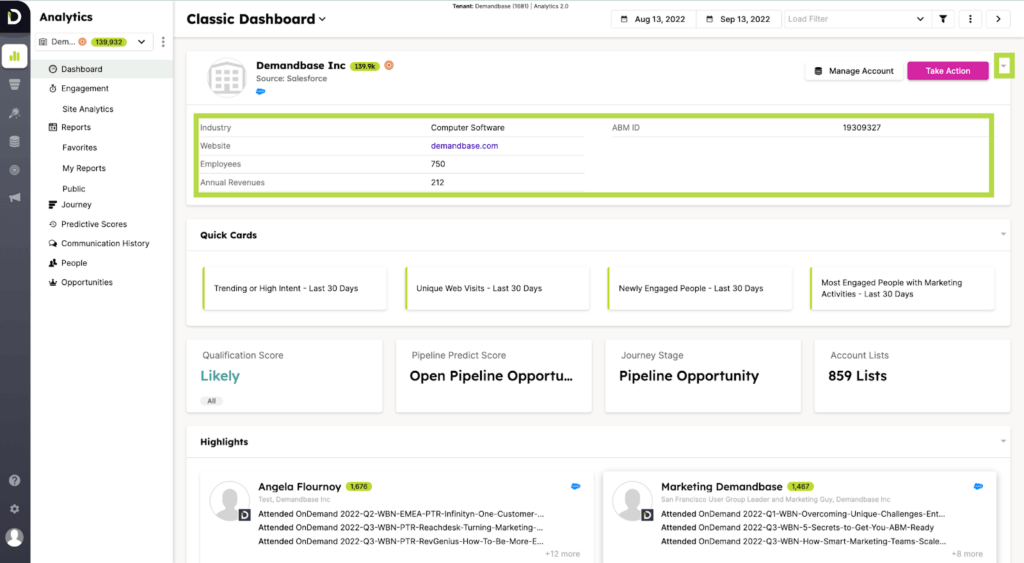 Best for: Advertising and audience targeting
Main Features: Demandbase is a dedicated B2B marketing tool that simplifies ABM. It has grown into a comprehensive platform tailored for various B2B marketing needs, including account identification, audience segmentation, and advertising. Users can benefit from AI-powered tools for refined account targeting and personalization. Key features include ABM analytics, cross-channel attribution reports, and predictive scoring.
Pricing: By request
Review: "DemandBase is easy to use and has some great reporting features to measure trends over time for your target accounts."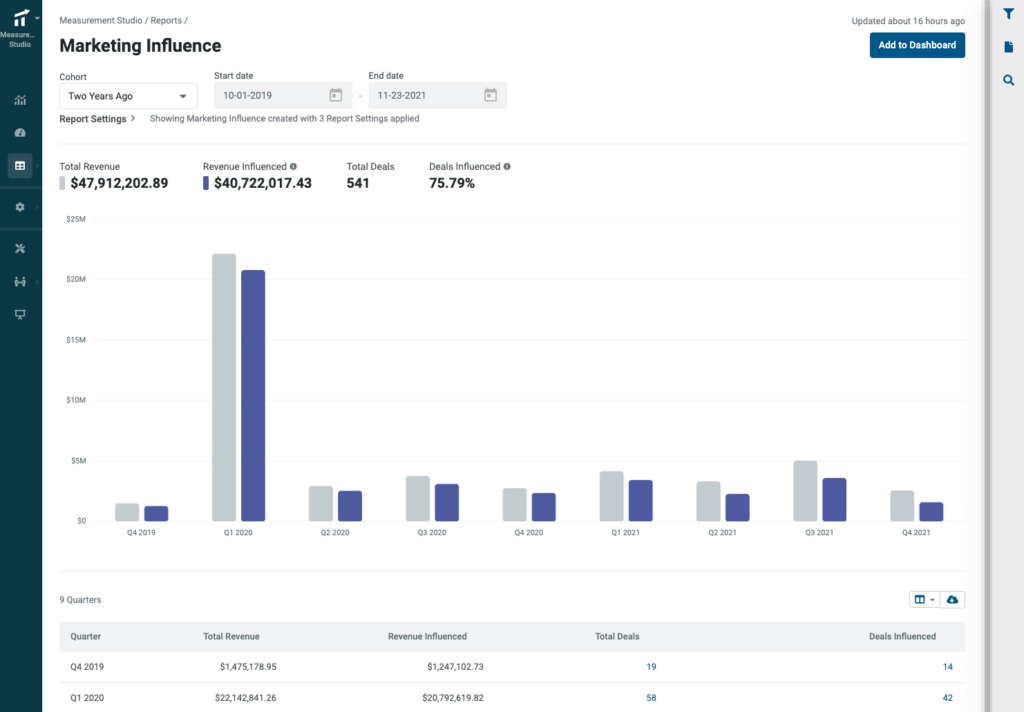 Best for: Comprehensive multichannel ABM solution
Main Features: The Terminus ABM Platform enables B2B marketers to identify, target, and engage high-value accounts across multiple channels. It offers account list building, campaign management, intent data analysis, and revenue attribution features. Terminus is designed to centralize the ABM process, encompassing targeting, engagement, sales and marketing alignment, and measurement.
Pricing: By request
Review: "Intuitive system, easy to ramp up, and immediately effective."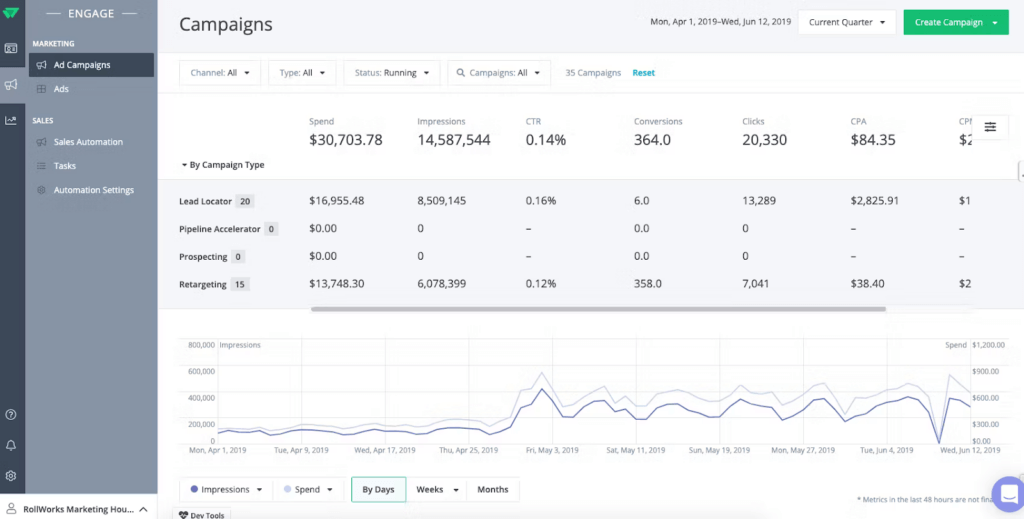 Best for: Campaign-market alignment
Main Features: RollWorks is an ABM platform designed to streamline sales and marketing alignment. Its core strength is leveraging machine learning and proprietary data to identify, engage, and convert target accounts across multiple channels. Users can craft an ideal customer profile, manage digital advertising campaigns, and get insights from performance metrics. Features include account grading, revenue attribution, built-in email, and ad campaign management, and sales intelligence.
Pricing: By request
Review: "You can quickly create your target audience, launch, and track your ABM ad campaigns very quickly."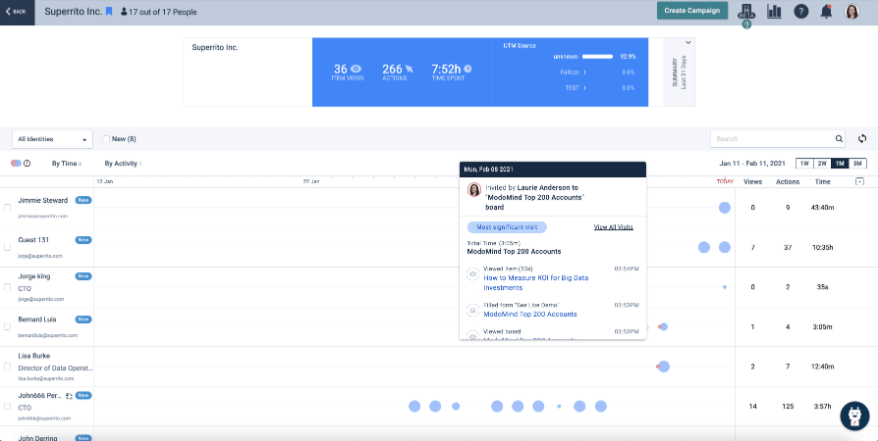 Best for: Quickly creating personalized customer journeys
Main Features: Folloze is a B2B buyer experience platform that offers a no-code design capability, enabling the creation of marketing campaigns tailored to various stages of the buyer's journey. The platform encompasses features such as Marketo cookie matching, content auto-tagging, and outreach integration. Notably, Folloze offers persistent identity insights, comprehensive integration options with other tech platforms, and tools for creating dynamic, personalized customer journeys.
Pricing: By request
Review: "I'm a big fan of Folloze. Super slick collaboration app. Really flexible and useful in a wide variety of ways."
ABM Marketing Tools Are Only the First Step
Account based marketing is a highly effective strategy to grow your startup, and using ABM marketing tools makes the process much more efficient, cost-effective, and increases ROI.
But ABM marketing tools are only the first step to turning your startup into a sustainable, thriving business.
Successful ABM efforts need targeted, value-packed content marketing. Partnering with an experienced startup growth agency like mvpGROW gives you an edge in the quest for the right eyeballs on your content. Our global team of editors and writers have a deep knowledge of startup industries, including tech, SaaS, and eCommerce—and write engaging content that converts.
Book a complimentary Zoom with mvpGROW to learn how we can amplify your ABM efforts and help your business grow.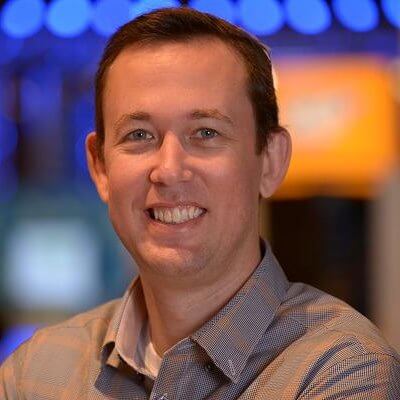 The Founder & Chief Getting Sh%T Done Officer of mvpGrow. After about 8 years as a hired hand some of the largest (and smallest) B2B SaaS companies worldwide I decided to hang up my employee slippers and lace up my growth agency cleats. But just because I'm an agency doesn't mean we can't chat (no charge). Please email me on any topic and I will gladly reply: eyal@mvpgrow.com