The last twelve months have been challenging for growing B2B startups. The VC capital drought has created a shadow of uncertainty, while the rise of Generative AI has disrupted digital marketing and especially content marketing—a vital component for success. With so much at stake and the landscape changing by the minute, startups need an effective marketing content plan more than ever—but where can they turn? Enter Content Strategy Agencies.
A content strategy agency devises content plans that are data-driven and strategically aligned with your business objectives, both in the short and long term. The importance of such a plan is underscored by the 93% of B2B marketers creating a content strategy this year. Content strategy agencies provide a roadmap that empowers you to make informed decisions and achieve optimal results in your content marketing effort, ensuring that every piece of content is purposeful, targeted, and impactful.
In this post, we'll look closely at content strategy agencies, including what B2B startups need from one, their benefits, and how to evaluate a content strategy agency. We'll also provide a detailed survey of the top ten content strategy agencies that get results.
Why do B2B startups need a content strategy agency?
HubSpot states, "Content strategy is the planning, creation, publication, management, and governance of content. Doing all this right is critical for startups because the main goals of marketing content are increasing sales, building customer relationships, and boosting brand awareness.
Hiring a content strategy agency serves several critical purposes for a startup. Leaving content strategy to a dedicated team of focused marketers removes the burden of keeping up with the shifting goalposts of content marketing and AI tools—and allows you to focus on improving your product. Beyond simply creating content, content strategy agencies excel in conducting in-depth audience and competitor research, establishing KPIs, closely monitoring progress, and maximizing the effectiveness of your content and marketing tools.
Most importantly, today startups have many content options to choose from when it comes to engagement at different stages of the buyer journey. Recognizing that potential customers have distinct needs and seek specific information at each phase, companies must approach content delivery with intentionality.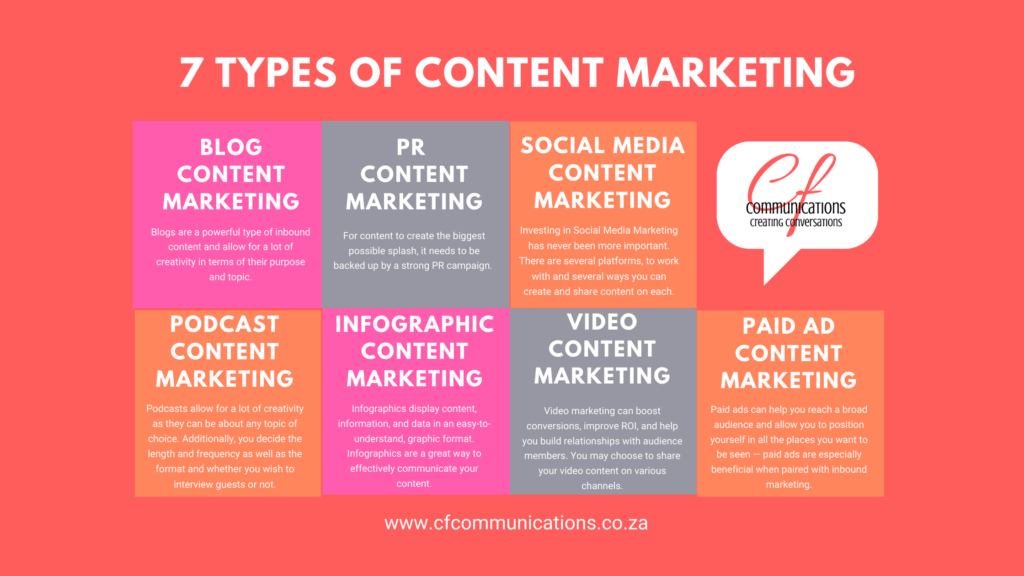 To effectively cater to their target audience, startups need a well-defined content strategy that outlines what content to deliver, how to deliver it, and when. With a clear content strategy created by a professional agency, companies can ensure their efforts are optimized and yield maximum ROI.
Benefits of a Great Content Strategy Agency
A great content strategy agency offers additional benefits, including:
A documented content strategy prepared by experts that will lead to success
Works with you to define content goals, audience, buyer's journey, and best platforms to use
Access to a team of skilled content professionals with various skills, including design, writing, editing, and SEO
Staying current on the latest trends, changing industry and market factors—and adjusting strategy to reflect them or optimize KPIs
Consistently producing quality, well-researched, human-created content (and/or employing generative AI tools); and knows the best practices for repurposing your existing content
Uniform messaging and branding across all content formats and platforms
Saving time and money since you don't need to allocate resources or personnel in-house.
Makes data-driven decisions that increase conversions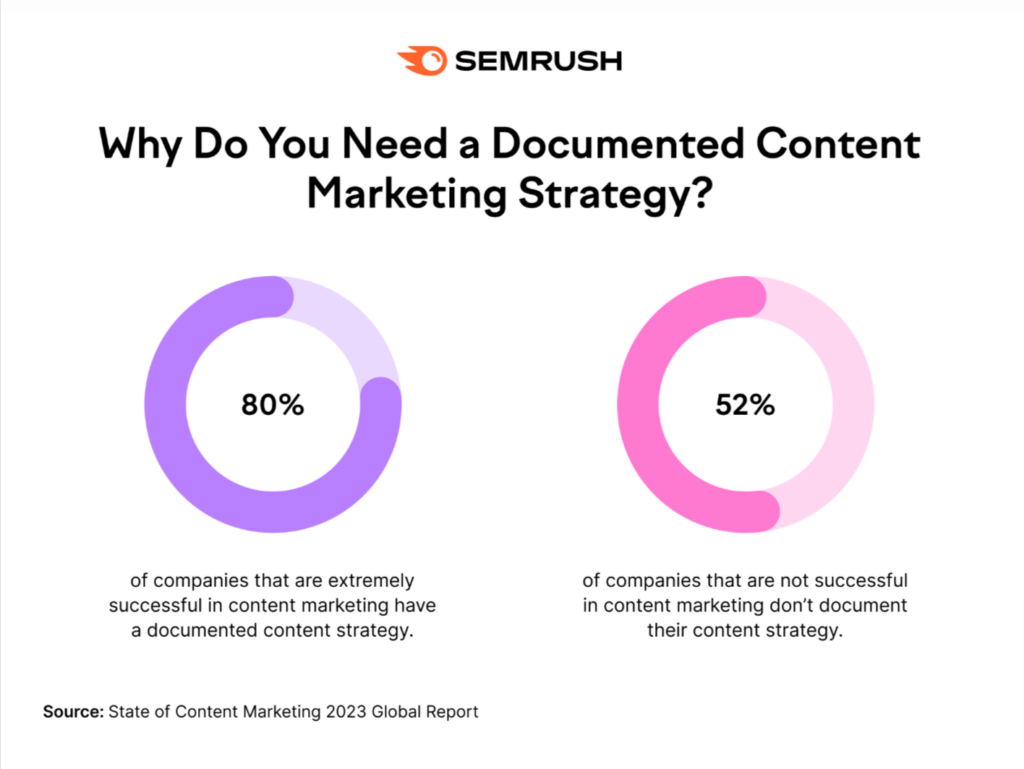 4 Keys to Evaluating a Content Strategy Agency
When hiring a content strategy agency, evaluate these four factors to ensure they are a good fit for your startup.
1. Expertise & Track Record
It's essential to have an agency experienced in your industry, or that understands the needs of startups in general. Investigate the experience of their principals and team. Does the agency have a long-standing record of success with similar brands? Do they have proven results or case studies that they can share that prove they get the results you want? Can they provide examples of previously executed content strategies?
2. Content ROI
Content ROI is a metric (in the form of a percentage) that displays how much revenue was gained from content marketing versus what was spent. Each piece of content should have its own expected ROI. When evaluating an agency, see if they can provide content ROI numbers from previous clients they developed a strategy for, so you can find out if they get positive results.
3. Services Offered
Most content strategy agencies offer a range of services to see the strategy through and measure its results. These services include ideation, writing, editing, CMS management, auditing, and more. Ensure that they offer what you need and can back it up. Conversely, make sure that you are not being charged for a bunch of unneeded services.
4. Communication & Support
Clear and prompt communication is essential to ensure that you and the content strategy agency are on the same page in aligning the strategy with your business goals. Ongoing content support is also crucial, especially if the content fails to convert or to meet other critical KPIs.
Top 10 Content Strategy Agencies
Now that you understand what a great content agency can do and how to hire one, here are ten top agencies to get results for your startup.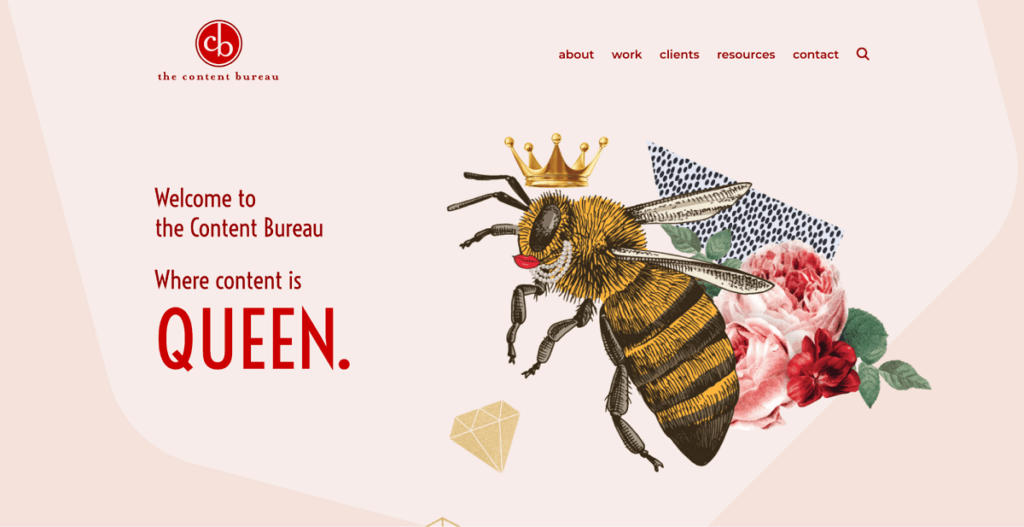 The Content Bureau is strictly a B2B content marketing agency with a strong focus on the tech, venture capital, and financial sectors. They're a certified woman-owned business with a 100% virtual team, 90% of which are women. Their extensive services include comprehensive content strategy, blog posts, case studies, eBooks, white papers, and more. Over two decades in business, they've achieved a proven track record working with brands like Adobe, eBay, and PayPal.
Location: Orinda, CA, USA
Best for: B2B content marketing strategy
Review: "We're using the content they've developed for different marketing strategies and we've seen an overall increase in traffic and engagement as a result."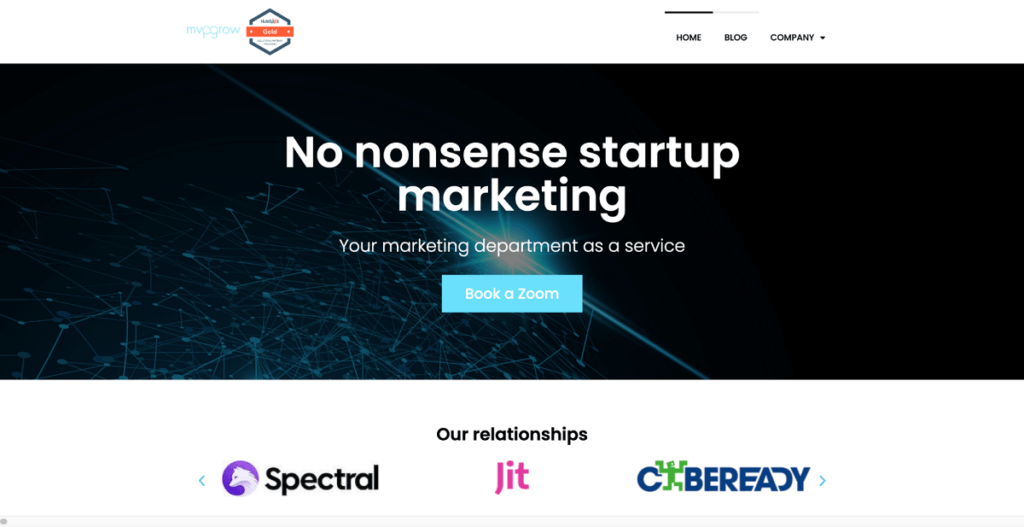 mvpGrow is a growth marketing agency offering extensive experience working with startups. Along with a customized content strategy, it provides a full range of services to execute the strategy as part of its "marketing department as a service" positioning. A globally-distributed team of experienced writers, editors, SEO experts, and PPC pros make it a one-stop-shop for companies needing an entire marketing department or additional help in specific areas. Content strategy includes creating a short, medium, and long-term growth roadmap that includes ideation, detailed milestones, KPIs, and proven tactics to get results.
Location: Kefar Sava, Israel
Best for: B2B tech and SaaS startups
Review: "What makes the difference between a good marketer and a great marketer is the ability to combine deep technical capacity with business understanding and creative capabilities. mvpGrow has that combination, which makes them unique."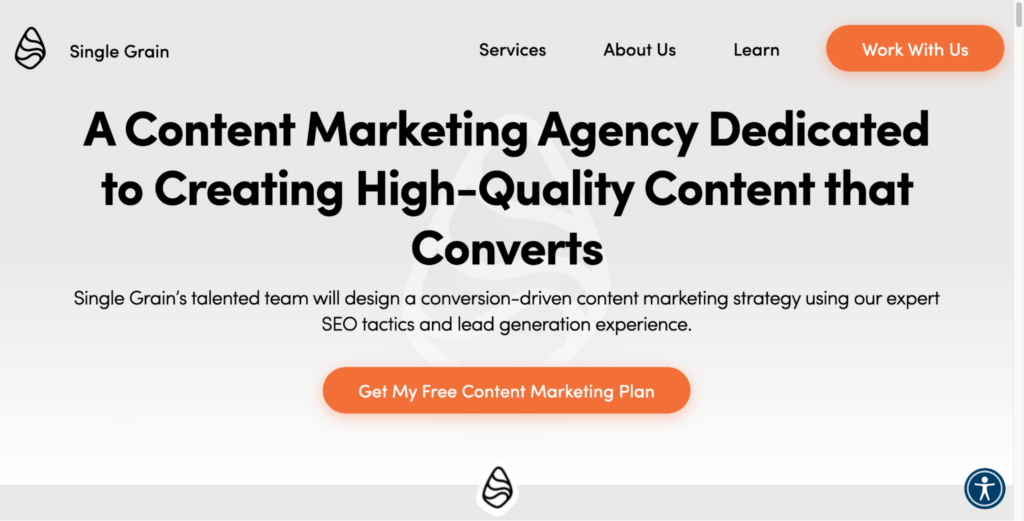 Single Grain is a full-service digital marketing agency known for its expertise in content strategy. Their SEO team and content writers create conversion-driven content marketing strategies based on their years of experience working with companies like Lyft, TurboTax, and 15five. They offer a comprehensive range of strategic services, including SEO, strategy planning and execution, ongoing competitor analysis, ROI measurement, and constant optimization.
Location: Los Angeles, CA, USA
Best for: Major brands and enterprise-level strategy
Review: "Single Grain has been key in helping us generate B2B engagement across digital channels."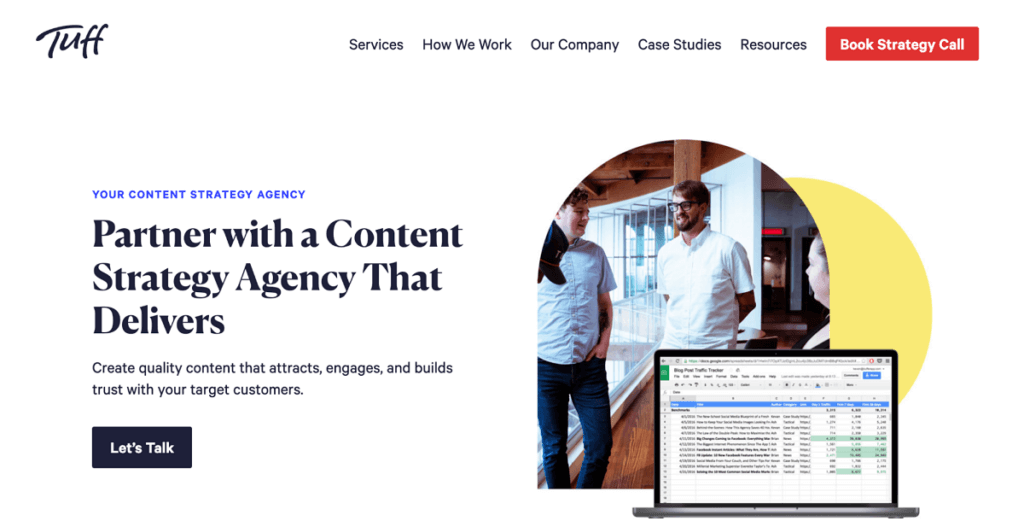 Tuff is a growth marketing agency specializing in crafting and executing effective content strategies for a wide range of businesses. From rapid message testing to building web pages, Tuff offers consistent effectiveness in content strategy elements such as usability testing, ad optimization, and A/B and multivariate testing. Their capabilities encompass creative testing, media management, owned media strategies, conversion rate optimization, and data analysis.
Location: Denver, CO, USA
Best for: Growing brands of all sizes
Review: "They have extensive knowledge and a huge team that can help us solve problems we've never encountered before."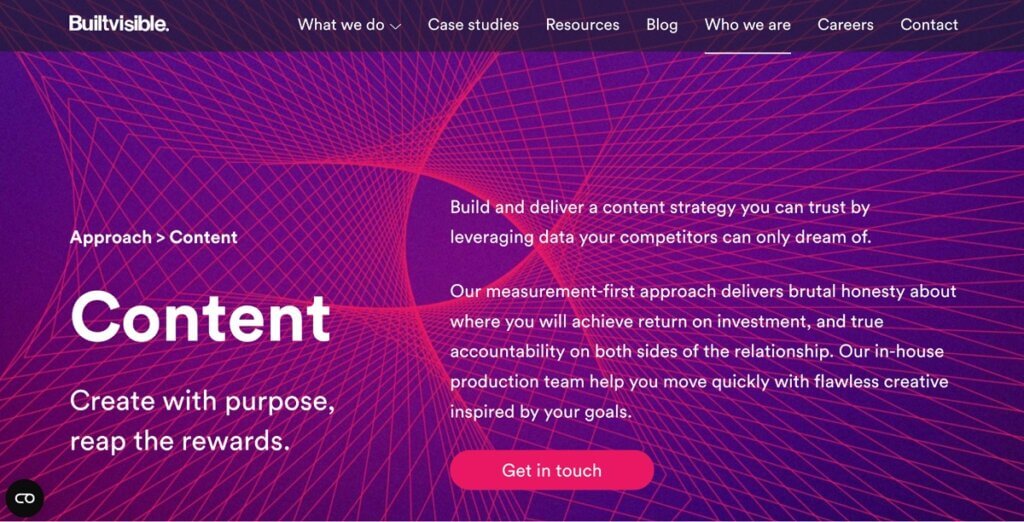 Builtvisible's focus is on content strategy and tactics that drive organic traffic. They work closely with in-house teams to determine where there's potential revenue growth, align stakeholders across clients' organizations, and provide detailed measurements of the key metrics that matter for growth. They believe that a strong content strategy forms the core of an organization's organic channels, facilitating the creation of high-quality content that resonates with its audience and drives desired outcomes.
Location: London, United Kingdom
Best for: Strategy that creates organic results
Review: "They've helped us to build up strong product content and article content, which have both driven a great deal of traffic to the site with people buying directly and using the site as an information point."
Kuno Creative is a versatile inbound marketing agency that develops and executes content strategies for technology, healthcare, B2B, B2C, and education businesses. They offer a comprehensive suite of services, including content strategy development, content writing, and SEO optimization. With a team that includes professional journalists and designers, Kuno works closely with clients to craft compelling content, optimize web content for conversions, boost SEO rankings, and create paid ad campaigns that convert.
Location: Avon, OH, USA
Best for: Established businesses needing strategy and full-stack marketing services
Review: "We set goals at the beginning of the year and then extrapolate that across 12 months, and then we watch how things work throughout the year."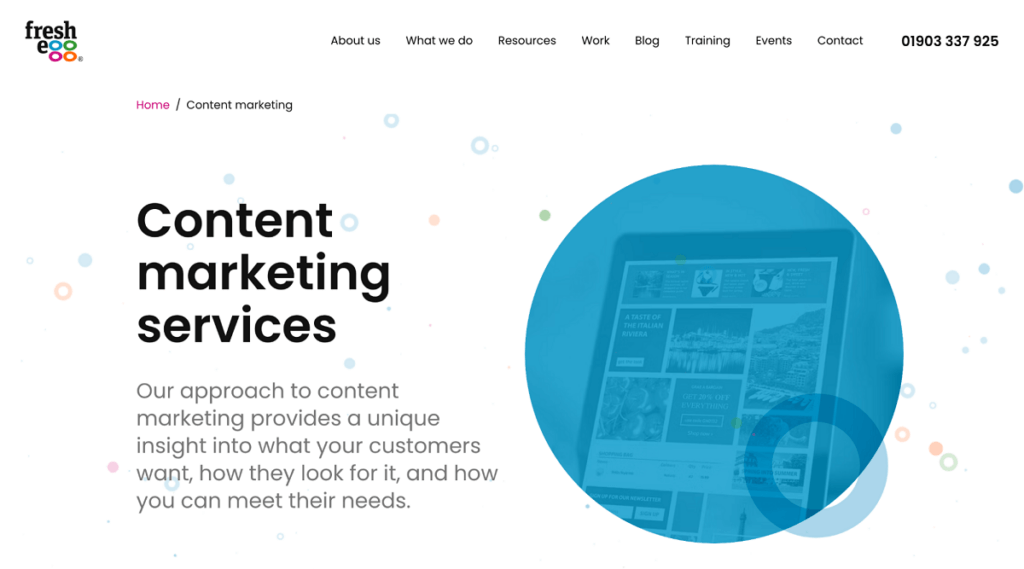 Fresh Egg makes content strategy omelets with a twist—they prioritize customer experience discovery in their approach. Putting the client's audience at the forefront helps identify user challenges and brand recognition triggers, which are the foundation for creating personalized content strategies. With a strong focus on meeting client needs, anticipating behavioral changes, and adapting to technological advancements, Fresh Egg offers plans that have worked across sectors such as charity, education, financial services, retail, and ecommerce.
Location: West Sussex, United Kingdom
Best for: Customer research and experience-based content strategy
Review: "(Fresh Egg) walked us through a step-by-step discovery process that included user testing and insights from our website analytics."
Precision Marketing Group leverages its multi-office US operations to offer various B2B marketing services. Their long-term content strategy focus begins with research and SEO, then becomes a full-stack with content creation, distribution, promotion, and regular content auditing. Each account boasts a seven-member team with a dedicated content strategist and monthly reporting. Specializing in a four industry niche, their case studies show a broad range of positive client results.
Location: Framingham, MA, USA
Best for: Manufacturing, SaaS, AEC and Professional Services companies
Review: "The best that my team has experienced in working with PMG is staying up to date on best practices, especially content strategy."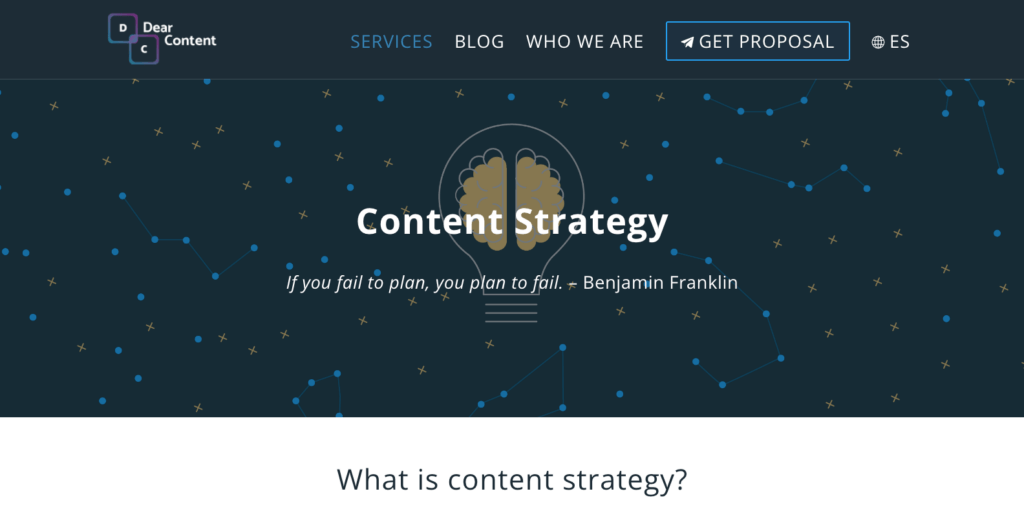 Dear Content is a specialized content strategy agency focusing on core content marketing services for small B2B organizations. They customize every content marketing strategy to individual client needs to ensure organic growth through market analysis, customer research, SEO benchmarking, and the creation of a comprehensive content plan. In addition to strategy, Dear Content offers content writing and lead gen services, including developing media relations through press releases and announcements.
Location: Barcelona, Catalonia, Spain
Best for: B2B SMEs that only need content strategy and marketing
Review: "It was easy working with Dear Content because of their efficiency and attention to detail."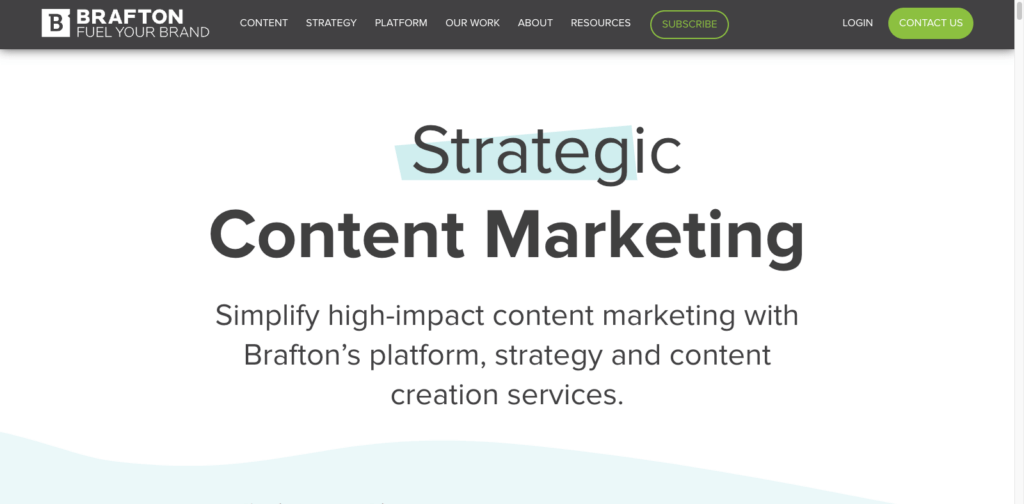 Brafton is a globally-recognized content marketing agency that specializes in content strategy. They offer many services, including developing content strategies for email marketing, social media, inbound marketing, and overall content marketing. Brafton stands out in determining the most effective content production and promotion strategies for videos, websites, and lead generation materials like eBooks and whitepapers. They have achieved impressive results for brands, such as securing over 50 first-page rankings on Google for GMP.
Location: Boston, MA, USA
Best for: Full-service multi-channel content strategy and marketing
Review: "They're a one-stop shop in providing expertise."
Growth is the Best Result
In today's uncertain startup landscape, B2B content strategy is crucial in helping businesses communicate their value, build trust, and engage their target audience. It ensures consistency, relevance, and clear brand messaging across channels. A well-executed content strategy positions a company as an industry thought leader, attracting qualified leads and driving conversions.
Engaging a content strategy agency helps a startup by leveraging the agency's expertise in content creation, strategic insights, and access to a team of professionals to reach more potential customers and increase marketing ROI. If you're interested in learning more about how mvpGROW can create a customized content strategy for your business, book a complimentary Zoom today, and we'll be happy to answer any questions you have. When it comes to content strategy, growth is the best result.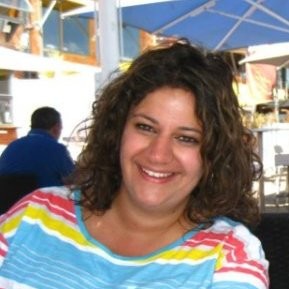 Head of Content at mvpGrow. | SEO & Content Specialist