As we start the first quarter of 2023, there are talks and predictions of discretionary spending slowing, an increase in the contingent labor market, growth of product management, and tech wage inflation. Whether your startup has or hasn't been affected by the looming economic uncertainty, there's one thing you need to move beyond it—effective marketing.
But finding great marketing help can be confusing, especially if you're searching Google. Depending on your search terms, you'll likely come across many websites for marketing agencies and almost as many for marketing firms. So, what's the difference between the two? And why do we have both?
To be fair, this division has existed as long as individuals have banded together to provide marketing services. Agency vs. Firm is an age-old question that inexorably leads to—you guessed it—more questions. What do agencies and firms do? Which one should my startup choose? How can the choice make this year successful?
We're here to walk you through a few of these questions—time to underwhelm the overwhelmed. Let's get started!
What exactly is a Marketing Agency?
A marketing agency is a large company that conducts research, develops marketing plans, builds brands, and advertises a client's goods or services. To accomplish specific business goals, marketing agencies collaborate with a company to grow, oversee and implement its marketing strategy.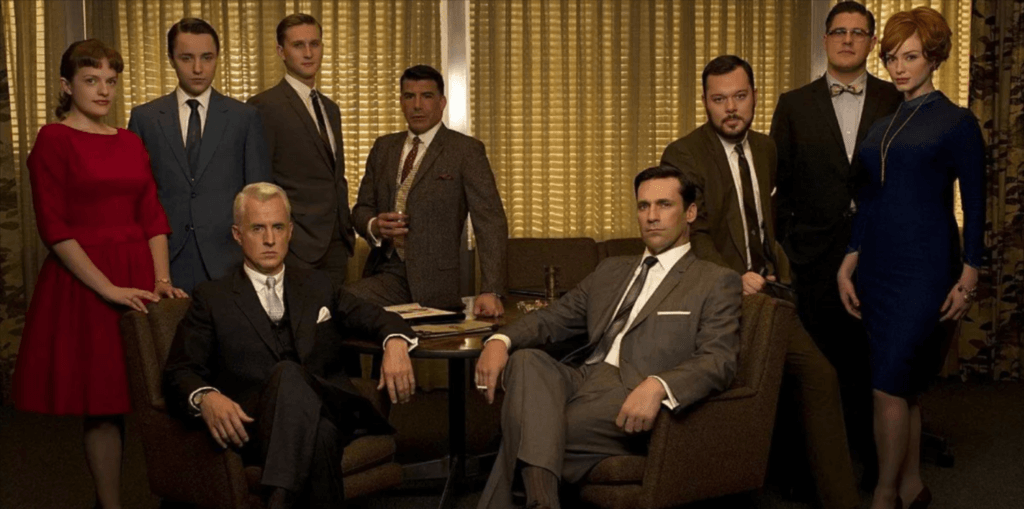 Agencies provide a wide array of services and products designed to get you from aspiring startup to go-to-market. From strategic planning and social media to content creation, graphic design, brand messaging, and big-time commercials, agencies staff up with a team that works together to create, perform and align all significant areas of marketing and advertising.
To be more confusing, Marketing Agencies are sometimes called Advertising or Creative Agencies, although those can also be separate things. Digital Marketing Agencies have a digital focus, so while they might be great for updating your website or creating winning email sequences, they can't help you with physical advertising on a billboard or sign.
One example of an agency you might have heard of is the fictitious Sterling Cooper Draper Pryce from the television show "Mad Men." Major real-life marketing agencies where much less whiskey is consumed include PwC Digital Services, Deloitte Digital, and WPP plc.
Marketing Agency Roles
If it sounds like many people work at a marketing agency, well, there are. Agencies consist of various departments, including account management, business, development, creative, and other departments beneath them. Here are some of the most common roles you'll find on staff at a large marketing agency:
Account Director/s
Account Manager/s
Creative Director/s
Designer/s
Art Director/s
UI/UX Designer/s
Copywriter/s
Head of Digital
Web Developer/s
Office Manager
Don't forget the ambitious, terrified interns, who are busy moving files around, cleaning the office foosball table, and trying to remember everyone's Starbucks order.
Marketing Agency: Benefits & Limitations
Broad Service Offering
Marketing agencies have the ambition and resources to provide as many services as possible. For a business owner, this often makes your agency your one-stop shop for all things marketing. But if you only need one or two services, an agency isn't providing the best value.
Specialist
As discussed earlier, Marketing Agencies are made up of different experts/specialists/creatives. They all have their tasks, perspective, a set amount of feedback/changes, and distinct personalities. So when you're engaging with a graphic designer or copywriter, they focus on delivering their best work, based on the brief you provided and their distinct skill set.
Structured Workflows and Processes
Agencies have their processes down. They have been doing this for a while, the same way, every day, forever. No wonder they drink so much coffee! Depending on your preference and needs, this could be a benefit or limitation. As a Co-founder or VP of Marketing, you might be looking for more flexibility and the occasional kombucha or green tea to mix things up.
From our experience dealing with various tech startups at different stages, we found you're looking to be personally involved, receive personalized services, and be able to pivot when the market requires it.
While marketing agencies have a lot to offer, sometimes you only need something specific or smaller.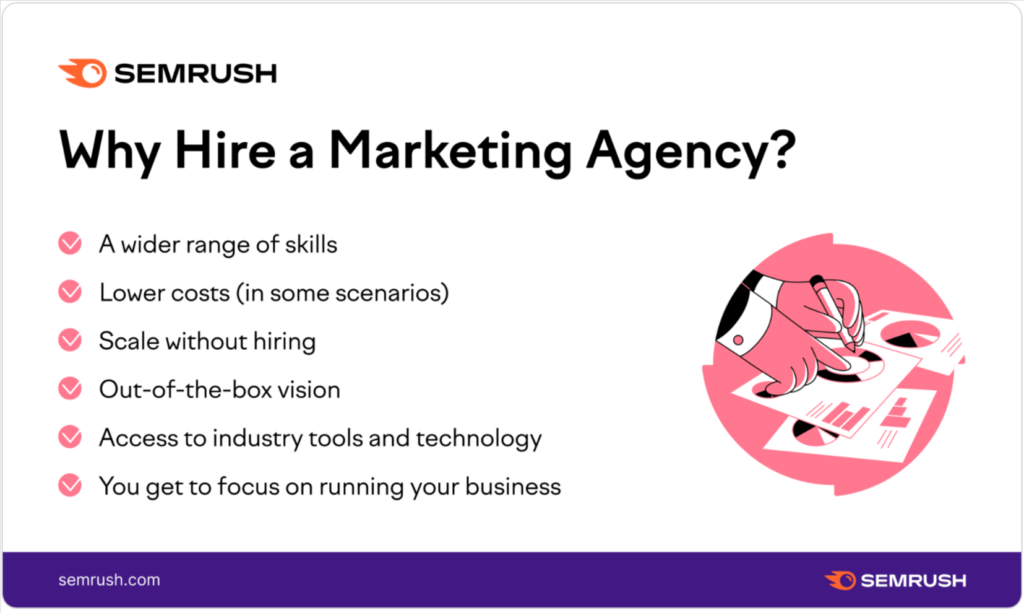 What exactly is a Marketing Firm?
If that's the case for your startup, you might be looking to hire a marketing firm. Usually a much smaller group, Marketing Firms have a more specialized focus, and their offerings are generally more limited to where their abilities excel.
For example, they might offer SEO content, create lead funnels, and Paid Advertising, but they will be hyper-focused on doing this and doing it well. Marketing Firms often excel when your target market or offering is niche, such as exclusively focusing on B2B marketing on LinkedIn.
Since the terms agency and firm are often interchangeable, some firms are also categorized as "boutique agencies." Public Relations/Strategic Communications is a marketing category where businesses often self-identify as a firm, such as Edelman in New York. To add to the confusion, some marketing firms call themselves a consultancy, presumably to justify higher fees. "Mad Men," indeed.
Marketing Firm Roles
Typical roles found in a smaller Marketing Firm include:
Co-founder/Head Honcho
Head of Content/SEO
Head of Paid Campaigns (PPC)
Editor/s
Content Writer/s
Sadly, Marketing Firms have fewer terrified interns on board to fetch the donuts, but generally, this does not affect the quality of their work. However, while it seems on the surface that an agency's larger size (and more donut-fetching interns) would automatically result in increased gains for the client, that's not necessarily the case.
Research into the dis-economies of management indicates that as a firm or agency grows larger, the costs of additional management and coordination lead to an increase in service costs and a corresponding decrease in productivity. As it turns out, size matters.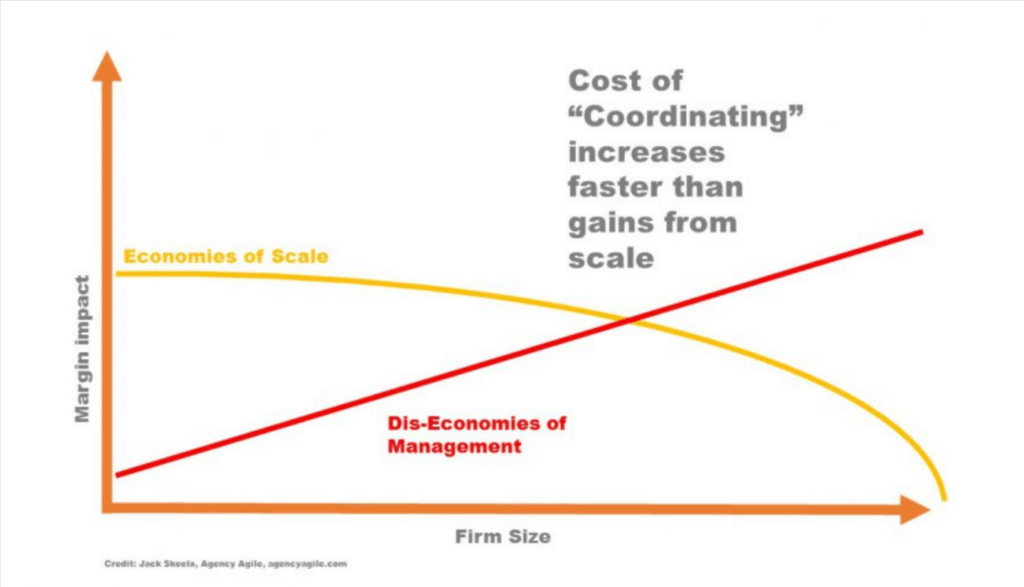 Marketing Firm: Benefits & Limitations
Curated Service Offering
Marketing firms offer services curated especially for the client. You get their key offerings tailored and personalized to your specific business needs and goals. You also get individual attention instead of a fleet of service managers that you might find at a large agency. However, the tradeoff is that fewer marketing services are available, so if you suddenly pivot from LinkedIn marketing to Programmatic, you may need a new service provider.
Growth-focused
Results are what matter to marketing firms. They know that their clients care most about the bottom line and will go above and beyond to support you in growing your business to achieve your goals. They will create a tailored plan to assist you in achieving your objectives, whether they are generating leads, improving sales, or increasing brand awareness. Agencies are also growth-focused but somewhat more focused on strategy and execution.
Innovative & Flexible
Large agencies can get bogged down in standardized procedures, multi-layer approval processes, and red tape. Startups trying to grow "ain't got time for that." A smaller marketing firm can be agile and flexible while providing creative, innovative solutions that help you achieve your marketing goals.
The 4-Step Framework for Choosing a Marketing Agency vs. Firm
Much like figuring out the difference between the two names, choosing between a marketing agency or a marketing firm comes with various criteria, some clearer than others. Here is a four-step framework to help you make the right choice for your startup.
1. Before You Choose an Agency or Firm:
Get clear on your goals and needs – Understanding your business and marketing goals is essential before engaging with outside marketing professionals. You need to know what you need to hire someone who provides just that. Maybe you need an entire strategy, or perhaps you only need a strong PPC campaign, or maybe your needs are somewhere in between—do the prep work and figure it out.
Understand what you already have – Does your startup already have a CMO, a marketing plan, an ace copywriter, or any marketing materials that work? What assets are you already bringing to the table? How will those assets work in conjunction with outside help? Are you looking to replace them or facilitate them to improve? Understanding the answers to these questions will help you further narrow down precisely what kind of marketing help will best serve your company.
Research your options – Don't just engage the first marketer at the top of Google Search. Take the time to carefully review their website and ensure that they offer the services you need.Seek out proof of work and their portfolio. Find out if their philosophy and fees align with your way of working and budget. Consider how the size of the organization will mesh with your startup. Check out review sites to find out how other clients liked working with them. Ultimately, you want to get a complete picture before moving into a service contract with any marketing organization.

2. You Should Choose a Marketing Agency if:
Your startup is inexperienced with marketing, and you don't know exactly what you need.
You are not funded to staff an entire marketing department and need to augment your CMO with a well-rounded team who will provide long-term execution of marketing initiatives.
You have a well-aligned plan and strategy, and need resources and/or execution in all areas.
You have needs for a broad range of marketing services and deliverables.
Your business is growing quickly, and you need increased marketing capabilities across multiple areas.
Your knowledge of your industry's best marketing practices is lacking across the board.
3. You Should Choose a Marketing Firm if:
You have a fully staffed marketing department but have identified that your startup needs help in one to three specific areas of marketing.
You have a well-aligned marketing strategy and a plan, but you need execution in specific areas.
You have an early-stage startup trying to figure out product-market fit and need help with strategy.
You need seasonal help (such as marketing your products for Prime Day/Black Friday/Cyber Monday/Christmas/Hanukkah etc.).
You want a personal touch focused on your business growth, creative solutions, and flexibility.
You have access to resources that can be used to carry out marketing activities, but you aren't sure that what you're doing is right.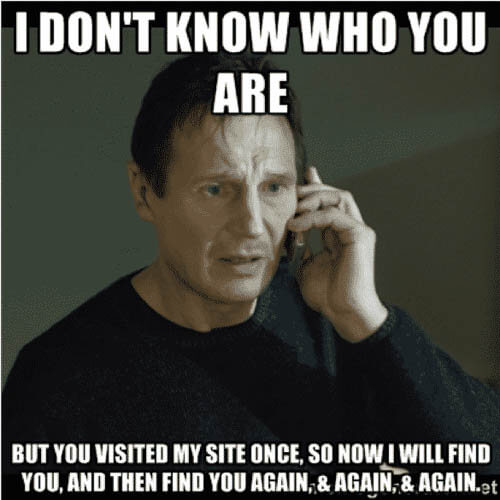 4. After You Choose a Potential Agency or Firm:
First, create a shortlist of the top candidates based on your criteria. It might be a combination of agencies and firms, depending on your needs and wants.
Next, set up meetings with the top candidates. Make sure you all speak the same business language and are compatible to work together.
Finally, create a test brief (which could be for an actual project) and ask for a proposal. Include any questions and scenarios you want your new marketing agency or firm to answer.
Decide which marketer fits best and hire them. It's not out of the question that you might employ both an agency and a firm, especially when you only have the slightest idea of what you need but are short on the experience and resources to do it yourself.
The 3rd Way – "Marketing Agency as a Service" with MVP Grow
For any startup, marketing success is the key to avoiding failure. You need your ideal customers to be aware of your product or service and feel the need to engage with it, or your business will go the way of the 90% of startups that fail. Fortunately, there are larger Marketing Agencies and smaller Marketing Firms to serve every level of marketing need. Hiring the right one for your business is a cost-effective way to ensure growth and allow you to focus on running your business while professionals handle your marketing success.
While Marketing Agencies and Firms can take care of most startup marketing issues, allow us to propose a third way—the "Marketing Agency as a Service" approach that we employ at mvpGROW. Working in place of an in-house marketing department or alongside your CMO, you get access to our internationally distributed team of marketing experts in SEO, Content Marketing, PPC, Lead Generation, Conversion Rate Optimization, and other growth marketing tactics.
With years of success working with early-stage startups and Fortune 500 companies, mvpGROW will optimize your strategy and marketing funnels while creating innovative new growth channels.
Book a call today to chat about how we can grow your startup together.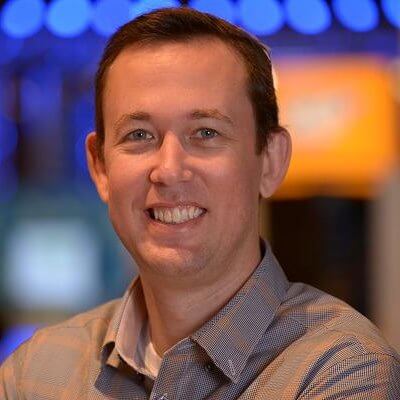 The Founder & Chief Getting Sh%T Done Officer of mvpGrow. After about 8 years as a hired hand some of the largest (and smallest) B2B SaaS companies worldwide I decided to hang up my employee slippers and lace up my growth agency cleats. But just because I'm an agency doesn't mean we can't chat (no charge). Please email me on any topic and I will gladly reply: eyal@mvpgrow.com